Cartoon Poet
RPGnet Member
Validated User
Or, "What if Joan Jett and Coco Chanel became New Wave terrorists?"
BGC has been a favorite of mine for some time. It is, in my opinion, everything
right
about the whole 1980s New Wave music video / cinematic cyberpunk / action anime zeitgeist. It oscillates cheerfully between well-conceived SF background to OVER THE TOP MADNESS, often in the same scene, and somehow makes it all work. Since I recently broke down and got the
Crash
DVD, I'm rewatching Crisis and Crash. I won't be watching AD Police unless there is popular request, because it makes me feel unclean. I wouldn't mind adding the ADP
manga
, though. I don't have Parasite Dolls or 2040, and won't be watching them at this time in any case.
It's a very
visual
show, with little dialogue and lots of music—and I'm taking a break between threads, and it's the crazy holiday season, and other such excuses. So don't expect much in the way of clever rewrites or illustrations; this'll be more of a "normal" IWIrW, with rambling commentary and fanZOMG. Still, we may see a little of my trademark oddness, here and there…
Since I've watched this before, here's quick bios of the lovely ladies to get the uninitiated up to speed. Caveat: I, er, might be interpolating my own opinions here and there.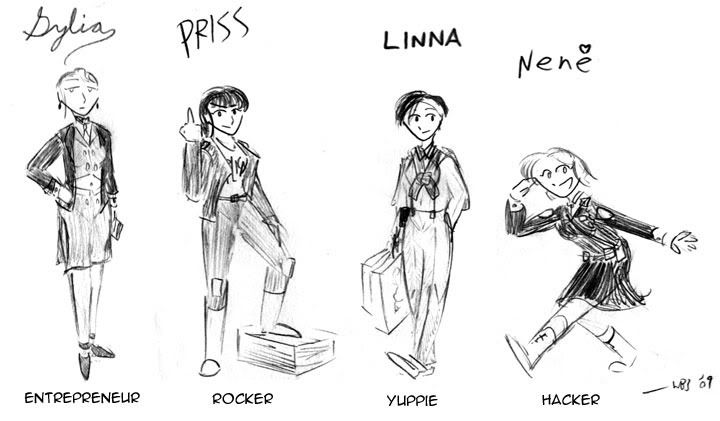 Sylia Vyacheslava-Katsuhito
(Silver Saber)
Occupation: Fashion designer, under the name "Sylia Stingray." House brands include Ladys633™ women's wear and Silky Doll™ lingerie; she manages the Tokyo outlet personally. Also substantial investments, real estate.
Personal heroes: Batman, Iron Man, and Coco Chanel.
Hobby: Sentai shows. World's second-largest collection.
Team role: Founder, leader, mother figure. Also spymaster and head engineer.
Background: Father invented modern cyberbrain, assassinated in corporate espionage; Sylia inherited the fortune, a revenge quest, and Dad's secret research downloaded directly into her head. Ouch.
Notable relationship: Legal guardian of brother Mackie, who is…

…a gifted mechanic.
…in the "my eyes are up here, Mackie" stage of late puberty.

Other notes:

Absolutely brilliant, maybe transhumanly so.
I don't know where she finds time to sleep. Drugs may help.
Silvers her hair to look older.
Might have feelings for Priss, but if so, buries them deep; the mission comes first.
Priscilla Asagiri
(Blue Saber)
Occupation: Frontwoman and songwriter for retro-80s rock band The Replicants. No recording contract yet, growing fanbase.
Personal hero: Joan Motherfucking Jett.
Hobby: Motorcycling; smashes a couple every year.
Team role: Striker, wild card, voice of conscience.
Background: Former bôsôzoku member; biker who taught her to ride (double entendre intended) killed in corporate plot; Priss's revenge quest led her to teaming with Sylia.
Relationships: Her girlfriends have a horrible habit of dying.
Other notes:

Yeah, really—Priscilla. She's not fond of it.
Smart, aggressive, indomitable.
Biker dyke and doesn't care who the fuck knows it. (I'm sorry, I don't buy that "dead boyfriend" story for a second.)
Linna Yamazaki
(Green Saber)
Occupation: Aerobics instructor; later on, stockbroker.
Personal heroes: Gordon Gekko, Mary Lou Retton.
Hobbies: Shopping; dance. Actually an Olympic-quality gymnast and a skilled dancer, but couldn't make either pay.
Team role: Flanker. Incredibly adept; Sylia keeps having to invent new upgrades, because Linna outpaces the limits on the equipment!
Background: Came to the Big City; couldn't get on the Olympic team; couldn't get any dance roles; hated being an office lady; discovered by Sylia.
Relationships: Perpetual string of shallow relationships with high-power businessmen.
Notes: Facade of yuppie bitchdom conceals a heart of gold.
"Nené" Romanova
Occupation: Police dispatcher.
Personal heroes: Theora from Max Headroom; ken, rms, and kibo.
Hobby: Hacker. She PWNS the police's data systems.
Team role: Electronic warfare, both combat and strategic.
Background: Second generation immigrant (would it be too cheeky to call her "nisei?"); teen runaway; hacked into Sylia's systems, rewarded with invitation; forged I.D. to join the police force while still underage. She's 19 now.
Relationships: Likes Mackie. Desperate to be accepted by others as an equal.
Notes:

Cute as a button and twice as dangerous.
At first glance the most "innocent" appearing of the characters, but she's a Kenichi Sonoda character design and lives half her life on the internet; she likely has terabytes of archived porn and can suck the chrome off a boomer.
We never find out her real name; probably something like Katerina or Maria. But everyone calls her Nené, neh? neh?
Note that all four are good-looking women, all four are artists, and together they provide a cross-section of MegaTokyo social classes. Together, they fight crime! In battle armor, because in a dangerous world, a girl needs to carry protection.
Also, here are some of our recurring male characters: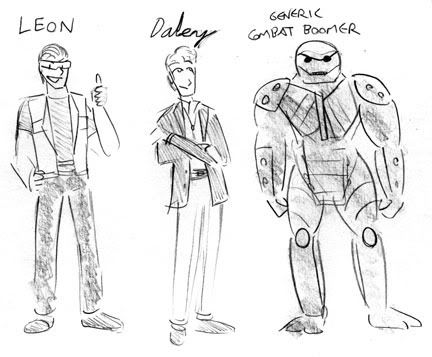 Leon MacNicol
and
Daley Wong
are both…
…detectives and platoon leaders with the Tokyo AD Police. (Daley has seniority.)
…Americans, lured to Japan with the promise of high salaries and extra rank. The Tokyo Police is desperate for qualified personnel; at least half the force were headhunted from overseas.
…good friends. They've keep up a running flirtatious banter; as I recall, in Crisis it comes off as two old friends joking (and laughing at the reactions of people who don't know that they are just joking), while in Crash it seems more like they're an item (but Leon strays). But it's been a while since I watched.
Leon thinks of himself as a heroic, cool, and handsome ladies' man of action; in reality, he's a very competent, hotheaded, and handsome
nerd
. The chief threatens to take his badge away about once a month.
Daley is a little more competent, fabulous, and trusted by the Department than Leon, but unfortunately he's supporting cast, not a main character, so we don't see him in action much.
And on the right is a generic male-former combat android, or "boomer." Made of smart metals and plastics and synthetic organics, and concealing numerous integral weapons systems; if made for it, they can hide their form under a flesh coating, like the Terminator. The AI is smart enough to perform small talk, but doesn't necessarily enjoy it.
Episode 1 Liner Notes
I don't recall if I ever actually
read
the liner notes—there's no need, everything's presented in the program. You pick up most of the background in the first minute of the episode, from the opening montage. But since I'm rewatching…
The notes start by invoking Tokyo history, mainly the previous times the city has been
destroyed
and rebuilt, which should be a big warning sign right there. It goes on to mention some then-current events, such as a real-life stupidly-mega-scale engineering plan to
pave Tokyo Harbor
. Then, fast forward to "fifty years from the present: 2032."
The Tokyo megalopolis is the world's most overcrowded city. (And far more ethnically diverse than it used to be. You know how in Bladerunner, L.A. has come to look like Hong Kong? Well, in this series, Tokyo has come to look like, say, San Francisco.)
Seven years ago, the Big One levelled the city. All those glorious massive-scale engineering projects, abandoned for lack of funds. In the series, you can see the ruptured faultline in overhead shots of the city. MegaTokyo is in the midst of rebuilding, so we're catching it at a bad time.
"Boomers"—androids—were originally designed to substitute for humans in space development, but the military promptly adapted them as walking tanks. There is a nebulous mention of "the power of matter fusion", which I will grouse about later on. (They're called "boomers" because the AIs tend to go berserk when overworked, undermaintained, or otherwise not used as intended by the manufacturer. Okay, raise your hands, technology professionals, how often is this likely to happen?)
GENOM is one of the world's most powerful multinationals, with a Tower of Babel HQ in Tokyo. Ladies and gentleman, our villains.
Not in the liner notes, but important: Tokyo had to implement a special Advanced Police Forced (AD Police) for boomer and other high-tech/high-violence crimes. Better armed, more visible, and less trusted than the "N-Police."
tl;dr:
It's 20 minutes in the future and corporations rule the Earth; Sylia is a cool beauty and the sentai team leader; Priss is the headstrong rockergrrl; Linna is the yuppie with the heart of gold; Nené is the redheaded girl hacker; Leon is the hard-hitting detective who won't play by the rules; Daley plays Tubbs to his Crockett, but gay instead of black; boomers are robots who sometimes go crazy because stuff.