Cartoon Poet
RPGnet Member
Validated User
Sailor Moon Super StarS #131: Capture the Pegasus! The Amazon's Trap!
Shadowjack: /staggers out of the wasteland. "Nenikekamen!" /expires
Artemis: /plucks the next recap from his cold sweaty hand. "And now we present: The Eyeball Trio."
The Eyeball Trio: (sings)
♫ We'll find that winged unicorn that's makin' such a fuss
♫ We gotta catch Pegasus 'cause the Circus depends on us
♫ Hit the decks a-runnin' boys and spin mirrors around
♫ When we find the Pegasus we gotta cut him down
Usagi: (via telephone) "Naru, I just saw the trailer, and I thought you should know that—"
Naru's Mom: "Oh! It's you, Usagi. Naru just fled into the panic bunker with her rifle. I assume it's her turn this week?"
•
The Big Top
Freaks: ♫ So tonight we're gonna party like it's 1999…
Zirconia: "Settle down you punk kids!"
The freaks retract into the floor as usual, leaving the main ring empty.
ENTER Zirconia, with dramatic swirl of smoke.
Zirconia's Winged Staff, which we haven't mentioned before IS ALIVE, ALIVE, oh what horrors has magical science wrought?…
Zirconia's Winged Staff: "Hey, boss, what's the point of doing a dramatic entrance when there's no one in the room to see it?"
Zirconia: "Oh, somebody's here to see it all right. Now, you three, come out of hiding and let me glower at you."
ENTER Eyeball Trio, reluctantly.
Zirconia: /glowers
Eyeball Trio: /shuffle feet nervously
Zirconia: "How many times have you failed? One… two… three, three times! Ah ah ah!"
Crash of thunder.
Hawk: "'Failed'? Nononononono. My lady, please! Do not cast such aspersions upon us!"
Tiger and Fish: /boggle at Hawk's audacity, contemplate distance to the nearest hard cover
Hawk: "Our operations to this point were merely RECONNAISSANCE! Now that we have learned the lay of the land and the nature of the opposition, it is time to set to—and, as you know, when we get down to business, nobody rakes in the marks like the Amazon Trio—and in the end, Pegasus is just another mark."
Zirconia: "I have never heard such an incredible line of bull."
Hawk: "What what what what what? I am shocked, shocked I say!"
Zirconia: "Fortunately for you, we're show people, so bull is good business. You've earned yourself another shot, cowboy."
Hawk: "Quick! Into the back for the ol' brandy."
The Trio retreats.
•
The Big Top Bar
Tiger: "…I think… maybe… this one?"
Tiger withdraws the picture of a red-headed schoolgirl with a hair bow and a red Starfleet security uniform, from that one time her boyfriend took her to a sci-fi convention.
Tiger: "There's just something about her."
Hawk: "I dunno, she doesn't seem the dreaming type. Are you really sure?"
Tiger: "IF I COULD BE SURE WE WOULDN'T BE HAVING TROUBLE, ASSHOLE!"
Hawk: "Oooo! Look who's angry!"
Tiger: "You goddamn son of a bitch. You'd BETTER handle Zirconia if THIS job goes bust."
Fish: "I'm with Tiger on this one. I just about died in there!"
Tiger: "This whole mission is stupid, anyway! If someone could reliably tell what someone was dreaming, I'd never get anywhere!"
Hawk: "Don't worry, I have a secret weapon."
Tiger and Fish: /all ears
Hawk: "Which I'm not going to tell you about."
Tiger and Fish: "…"
Hawk: "Until the time is ripe."
Hawk: "Hey, where you going? Come back, I want to milk the spotlight a little more!"
•
This Boy's So Spectacular, Not a Boy, But a Wealthy Bachelor
And so, our story turns to a popular ice cream fountain in Azabu-Juuban…




…which has a surprisingly diverse customer base! Everybody likes frozen treats!

Here we see Naru, impatiently looking at her watch.

ENTER Tiger's Eye, in his lady-killer outfit as before. He immediately—well, no, first he checks himself in the mirror, THEN—approaches Naru.
Naru: "FINALLY! You're—"
Naru: /looks up, and sees that it's not Umino.
Naru: "—not who I was expecting, sorry!"
Tiger: "Even were it a mistake, I am honored that someone as beautiful as you would deign to speak to me!"
Naru: /wowsers, wotta hunk
Tiger: "Fair maiden, may your servant offer to—" /puts hand on her shoulder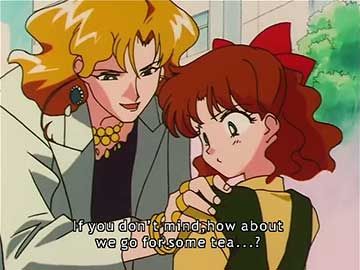 Naru: /glares at touching-without-permission like the heir to a dark kingdom
Tiger: "—take you to tea in yonder—"
Umino: /bursts in, clumsily. "NARUUUUUUUU!"
Naru: /forgets about laughing boy. "Umino!"
Umino: "IAMSOSORRYI'MLATE—"
Naru: "Don't worry, you'll make it up to me later.
︎ "
Umino: "Oh, boy!"
EXIT Umino and Naru, arm in arm, chattering as lovers.
Tiger: "—shop."
Tiger: "…"
Tiger: "…what?"
That's right, Tiger's Eye! You've just been dropped like a brick for a scrubby lout in bottle glasses! What are you going to do next?
•
Into the Back for the Ol' Brandy
Tiger: /owes Fish and Hawk new keyboards
Tiger: "SHE MUST HAVE BEEN INSANE! That's the only explanation! Or blind! Blind, insane, and homosexual!"
FIsh: /tries to control giggles. "She was dating a boy, you said."
Tiger: "She's in denial! She fled from my obvious charms! She's playing hard to get!"
Fish: "Now, honey, it's no crime to be in a slump." /busts up giggling again.
Tiger: "I mean if she'd been using me to make him jealous that would have been something, but THIS! That's it! I QUIT! Pegasus wouldn't bother to live in the dreams of someone with such crippling lack of taste!"
Fish: /seriously. "Can you afford to take the chance if it turns out he was anyway?"
Tiger: "…frell."
Hawk: "Actually, it doesn't matter either way. We can still use her."
Fish: "Ahhhh, the mysterious secret weapon."
Hawk: "Wanna see it?"
Fish: "Now there's a pick-up line I won't touch."
Hawk: "You want revenge, Tiger? I won't even make you ask."
Tiger: /…nods
Hawk's Eye leads his companions into one of the storage chambers, where, with a flourish, he withdraws the dust cover from a large apparatus.
Tiger: "…It's just a cage."
Fish: "Kinkyyyy."
Hawk: "Bear with me. We all know that Pegasus doesn't have a material body in the physical realm, right? Right. So I put a miniature black hole generator in the cage. Simple! Nothing escapes that. The only trick is getting him to manifest in the first place, but as you've already discovered, he's got a hero complex a mile wide. We don't need to find HIS dream if he comes out on his own to protect SOMEONE ELSE'S, no matter HOW lame."
Fish: "…huh."
Tiger: "Oh-hohoho. Naru Osaka, you're going to be bait, bitch!"
•
Every Breath You Take, Every Move You Make…
Tiger: /STALKER MODE=ON
In search of clues, Tiger's Eye pursues Naru through her day. His break-through comes at the local book store. She: browsing the books on nursing. Him: hiding behind a copy of…




Okay, that's GOT to be a real book. *Googles* Yep. I couldn't find an English reference for "Cherry Boys" specifically, but Sadao Hasegawa is a noted Japanese artist of BDSM-themed male erotica.

Somehow, that's not really a surprise…

Anyway.
Tiger: "Aha! She wants to be a nurse. That's my in! She'll be a sucker for a weak young man with not long to live…"
•
Every Bond You Break, Every Step You Take…
Naru: /trips over Tiger's Eye.
Tiger: (from underneath) "How glad I am to meet you again!"
Naru: ?
Naru: "Have we met somewhere before? I don't remember you at all! You must not have made much of an impression!"
Tiger: "…nrrrRRRRrgh!"
Naru: "Goodness, that sounds painful! Let me step off of you. Are you all right?"
Tiger: /remembers what he's supposed to be doing. "Alas, no! I am a weak young man with not long to live! How cruel it would be for me to die in the next three months never having known what love is, don't you think?"
Naru: "Oh, ah?"
Tiger: "Be my girlfriend, or I shall surely perish on the spot!"
Naru: ?!
•
Emergency Meeting at the Shrine
Naru: "And that's the story."
Chibi-Usa: "Wow, three months to live! So dramatic! It's like a TV show!"
Mako: "Yeah, I think I saw that one last week. Describe this guy again?"
Naru: "Well, he's a smokin' hot male model, very tall, with long wavey hair, and the stars in his eyes, and—"
Ami: "I've heard this story before! Er… sorry."
Naru: "No, no, really, it's okay. That's kind of why I came here today."
Mako: "You DID tell him NO, right?"
Naru: "Er, well, actually, I sort of… didn't?"
Mako: "Urrrrrrrgh. Naruuuuuuuu. Guys like that prey on our desire to not cause a scene. Don't let him push you around!"
Mina: /seriously. "If you're going through with this, what are you going to do about Umino?"
Naru: "I think there's been a misunderstanding here."
Chibi-Usa: "I think it's super-romantic! Spending the last moments of your life on love!"
Usagi: "Are you even catching all the subtext here?"
Chibi-Usa: "What's subtext?"
Rei: "You DO know that love and sympathy are two different things, right?"
Chibi-Usa: "Oh, is that why we haven't seen Yuichiro around lately?"
Rei: /implodes
Naru: "Guys, it's just that this is such an UNUSUAL EVENT that I thought maybe I should TELL SOMEONE who MIGHT be able to DO SOMETHING before I go to talk to him IN CASE SOMETHING HAPPENS." /flounces off
Ami: "Er… well… if we know anyone who might be able to, uh…"
Usagi: "Oh, don't be such flippin' dunces, she's known for like a year-and-a-half. After her, quick!"
•
Naru Wonders How She's Going to Tell Umino About All This
Naru: "I wonder how I'm going to tell Umino about all this."
Umino: /suddenly! "What are you wondering how you're going to tell me all about?"
Naru: /tells Umino about all this.
I'm sorry, could you back that up a moment?
Naru: /tells Umino about all this.
Just like that? You're not going to milk this for several episodes' worth of "I'm sorry but I can't tell you" drama?
Naru: "My life isn't some kid's show! Clear communication is important for a lasting relationship!"
Awesome.
Umino: /weeping manly, er, well, weeping tears, anyway. "NARU YOU'RE SO KIND! BE BY HIS SIDE IN HIS LAST MOMENTS! I'll go live on a mountain top or something forever…"
Naru: "Umino, wait, you didn't let me finishandexplainthatI'mnot—"
Umino: /runs away
Naru: "—going to… ARRRRGH! Umino! Clear communication!"
Usagi: /suddenly! "Don't worry, I'm sure it'll all work out in the end."
Naru: "Why, what are you all doing here?"
Usagi: "Why, we just happened to be passing by completely innocently and coincidentally!"
Ami: "We're sorry, Naru! We didn't know you knew, you know. That makes things so much easier!"
Mako: "Naru, you're a brave girl, volunteering like this!"
Naru: "Hey, this is my only super-power, I might as well make it useful for once."
Luna: "Everyone fan out, search pattern Bravo."
Mina: /preparing disguise pen. "Uh, is Umino really going to be okay? He didn't look okay. Hey, Chibi-Usa, go follow him and make sure he doesn't do anything fatal."
Chibi-Usa: "Roger!"
•
Chibi-Usa's Report
Chibi-Usa: /salutes. "Umino is drowning his sorrows in milk-shakes!"
Usagi: "…"
Usagi: "How many milk-shakes?"
Chibi-Usa: "When I left, fifteen."
Usagi: "Oh, uck."
Chibi-Usa: "I know, right?"
Usagi: "That makes even ME sick!"
Chibi-Usa: "Hey, hey, Usagi, hey, Usagi, hey."
Usagi: "What."
Chibi-Usa: "Are Umino and Naru going to be okay together in the end?"
Usagi: "Why do you always ask?"
Chibi-Usa: "Aren't you worried?"
Usagi: "Well, yes, but it's not like our lives are your personal soap opera."
•
A Couple Of Years Ago In a Thousand Years
Chibi-Usa: "Puu, whatcha watchin'?"
Sailor Pluto: "My personal soap opera."
Chibi-Usa: "That big girl looks like Momma!"
Sailor Pluto: "That she does."
•
Meanwhile In The Present
And so, Naru sits on a seemingly-isolated park bench, wearing a wire, and pretending not to notice the half-dozen people loitering nonchalantly within running distance with restless eyes and hands under their jackets.

ENTER Tiger's Eye, fabulously.
Tiger: "Darling! I came as soon as I received your call!"
Naru: "Yes, well, er, I felt I should tell you this to your face: I already have a boyfriend."
Tiger: "…so?"
Naru: "…"
Naru: "And he means a lot to me."
Tiger: /PUTS HIS ARM AROUND HER. "No need for you to be worried about that!"
Tiger: /PULLS HER CLOSER. "I just want you to have a fleeting moment of fun!"
Tiger: /PUTS HIS HAND ON HER FACE. "Just think about things that feel good…"
Tiger: /TURNS HER FACE TOWARDS HIS. "There's nothing else you can do—"
Naru: /
Sailor Dark Kingdom Right Hook to the Jaw!
Naru: "Well, except that."
Tiger: /picks himself off the ground and spits out a loose tooth. "Right, you're getting it now, bitch!"
Naru: "My feelings never really entered into your story, did they?"
•
CIRCUS QUICK-CHANGE TRANSFORMATION SEQUENCE COUNTER
Tiger's Eye into:
Hawk's Eye into:
•
Tiger Does His Thing
Naru: "Yeah, yeah, get it over with, jerk." /passes out peevishly.
Tiger: "You are NOT making this work for me!" /sticks it in anyway.
ENTER the Sailors Moon, dramatically!
Usagi: "Sheesh, you're fast! We only got distracted for a moment, and here you are already!"
•
STARKLY CORUSCANT TRANSFORMATION SEQUENCE COUNTER
Usagi into:

Sailor Moon: 43
Second Stage Sailor Moon: 30
Cosmic Class Sailor Moon: 22
Cosmic Class Sailor Moon (double trouble remix): 2
Crisis Mode Sailor Moon: 13+1
Princess Serenity: 1
Disguise: 10

Ami into:

Sailor Mercury: 15
Second Stage Sailor Mercury: 20

Rei into:

Sailor Mars: 13
Second Stage Sailor Mars: 19

Makoto into:

Sailor Jupiter: 8
Second Stage Sailor Jupiter: 19

Minako into:

Sailor Venus: 7
Second Stage Sailor Venus: 22

Haruka into:
Michiru into:
Setsuna into:
Mamoru into:

Tuxedo Mask: 2
Second Stage Tuxedo Mask: 1

Chibi-Usa into:

Sailor Chibi-Moon: 9
Sailor Chibi-Moon (double trouble remix): 2

Luna-P into something-or-other: 10
Tiger: "Pegasus isn't here, but why is this girl's dream so beautiful! I'm downright jealous! How can I get a dream like that?"
Chibi-Usa: "Not be such a jerk?"
Usagi: "Chibi-Moon, delivering a serve! High-five!"
Chibi-Usa: "Yeah!"
Tiger: "Lemure Juggler Otedamako, I choose you!"
•
Monster of the Week!
A pale blue space elf in a smokin' hot red China dress with inexplicable breast spikes and gigantic pink rubber, er, bracers, I guess you'd call them. She wears her hair in a braid, and red facepaint that matches her boob window. She is armed with an endless supply of juggler's paraphernalia.
Otedemako: /enters the scene tumbling and juggling, with style and flair!
Usagi and Chibi-Usa: /applaud
Otedemako: "Now you try!" /throws balls at our heroes
Usagi and Chibi-Usa: /juggle exactly as well as you would expect of Usagi and her daughter
Otedemako: /did I mention that the balls were grenades with impact fuzes?
Usagi and Chibi-Usa: /no, and we rather wish you had a moment ago
Chibi-Usa: /takes cover
Otedemako: /well, they're all exploding now that you've dropped them, so, yeah
EXPLOSION DAMAGE 258 258 258 258 258
Usagi: /takes cover
Usagi: /asfjasgfajs too slow
Usagi: /i mean uh bravely takes the brunt of the blast to spare sailor chibi-moon lol
Chibi-Usa: "Now looks like the perfect time! PEGASUS TWINKLE YELL!"
•
STARKLY EQUINE SUMMONING SEQUENCE COUNTER
Otedemako: /applauds
Tiger: "No applauding the enemy!"
Otedemako: "Awwwwww. But he's good at this!"
Tiger: "Now, where'd they go? AHA! I see you there, trying to hide behind the platform!"
Chibi-Usa: "We're not hiding, we're trying to turn it off and free Naru!"
Tiger: "Well, it won't work, BECAUSE YOU HAVE ALL FALLEN INTO MY (partner's) BRILLIANT TRAP!"
Tiger: /presses button
Hawk's Eye's steel cage materializes around the three girls with a terrible clang!
Music: DUN DUN DUN!
Pegasus: /swoops toward the girls
Chibi-Usa: "Luke! It's a trap! It's a trap!"
As soon as Pegasus enters the cage, Tiger's Eye flips the switch and activates the miniature black hole generator.
Music: DUN DUN DUNNNNNNN!
Pegasus: /swoops through the black hole
Pegasus: /unaffected
Pegasus: /completely
Pegasus: /goes back and forth a few times
Pegasus: /unaffected
Pegasus: /tossing his glorious mane
Pegasus: /cantering a little bit
Pegasus: /totally unaffected by the black hole
Pegasus: /lol
Usagi: "I LIKE this horse's style!"
Chibi-Usa: "See, what did I tell you?"
Tiger: "HAWK'S EYE YOU USELESS PONCE!" /kicks cage
Tiger: /kicks cage until it falls apart
Tiger: /stomps on the pieces
Usagi: "Uh, anger issues, much?"
Tiger: "SHUT UP! Otedemako! Switch mode to Purée!"
Otedemako: /draws knives, millions of knives >
•
Suddenly!
ENTER Tuxedo Mask, dramatically, armed with +3 blessed throwing roses!
Otedemako: /applauds and whistles
Mamoru: "I will not forgive those who tarnish a maiden's pure emotions!"
Tiger: "I never wanted your forgiveness in the FIRST place!" /tears whip in half, gnaws on the pieces
Mamoru: "…Well, bless your heart! NOW Sailors Moon!"
Sailor Moon prepares the dramatic wind up for Moon Gorgeous Meditation!
Otedemako: /runs up to Mamoru, puppy-dog eyes.
Mamoru: ?
Otedemako: "You're the best entrance yet! Want to run away and join the circus with me? I'm GREAT at tumbling!"
Mamoru: "Uh…?"
Moon Gorgeous Meditation frags Otedemako!
Tiger: /uses fire escape
Chibi-Usa: "Oh no, you missed the villain and hit the underling again!"
Usagi: "Ha ha, yeah, whoops, my hand must have slipped."
Mamoru: "I
was
going to refuse, you know."
•
Aftermath
Naru: /comes out of bindu suspension. "Is it over? Oh, look, a Pegasus!"
Chibi-Usa: "Isn't he cool?"
Usagi: "Yeah, that seems to be our new thing this year."
Naru: "Well, he's awfully pretty."
EXIT Pegasus, dramatically, with swirl of mane and tail.
Mamoru: "Darn horse is stealing my schtick."
ENTER all the other Sailors.
Usagi: "THANKS for your HELP, by the way. Naru got 'got' again! Where the heck were you?"
Mina: "She got 'got' only once? Oh, good."
Usagi: "What do you mean?"
Mako: /drags in a giant net filled with miscellaneous youma. "Well, there were six other attacks at the same time. We kind of had our hands full."
•
Denouement
Naru has brought Umino back to Casa del Gurio, where he's laid up sick in bed.
Naru: "And that's the story."
Umino: "Gee, I feel awfully stupid for misunderstanding and running off like that."
Naru: "I forgive you. I told you, I like your goofy emotional honesty!"
Umino: "Aw, shucks."
Naru: "Now, I said I would take it out on you later, and this is later, and I always keep my promises. So here's
just one more
of those milk-shakes you love so much."
Umino: "I'm, ugh, really full, Naru, I don't think I could—"
Naru: "Drink."
Umino: "Please, I really—"
Naru: "DRINK."
Side comments:
I think "Cherry Boys" is the dirtiest joke they've done in the show so far.
I couldn't think of any way to really fit this into script, so just mentioning: This episode had a lot of sloppy, off-model cels—animated by the B-unit, I guess. This shot stood out, though…
…because it seems to me that they animated Tiger's Eye with a female waist and walk! You can't see it in a stillframe, but the walk-cycle seemed more like a high-heel strut than his usual macho swagger.
And anyway:
Seriously, that's a diverse crowd. Looking past the attractive ambiguously-gendered individual and their young date in the foreground, I notice a wide range of ages, and an honest-to-goodness black man at screen right. And I like the sense of style of the ladies in purple; sisters, do you think?
Last edited: