http://www.kickstarter.com/projects/nogrod/whisper-and-venom-rpg-adventure-boxed-set-with-28m
Love Old School RPGs? Like deluxe products for fantasy games that come with the best extras including miniatures, poster maps and dice? Is quality art, cartography and custom sculpted 28 mm figurines from well-known freelancers a plus?
Would you feel better about backing Kickstarter projects that are 100% paid for before the funding period is even over?
Then please check out Whisper & Venom by Lesser Gnome. A fantasy boxed set adventure with the most deluxe extras available including:
Custom Cover by Jeff Dee
Cartography by Alyssa Faden
Art by Jeff Dee & Lloyd Metcalf
Custom Figurines Sculpted by Tim Prow, Mark Evans, Nicolas Genovese and Michael Branch
2 booklets and quality dice
The project is fully funded and now the goal is to make a box so full of extras it could choke a Tarrasque.
The ultimate goal is to have a custom figure for every NPC, adversary and unique element in the text. We are currently 235% funded so shipping is a guarantee and the more backers the closer to the ultimate goal.
Lesser Gnome wants to bring this awesome array of RPG goodness to as many gamers as possible.
If you have any questions feel free to ask through Kickstarter, here, or on Facebook.com/lessergnome.
Other options-
$15 Mini only level that includes 8 figs (7 Goblins and a Gnome) which then allows for adding on minis a la carte.
A Kickstarter only retro-gatefold module of the adventure portion only mock-up shown below
A ultra high quality signed and numbered print of the custom cover by Jeff Dee
and much, much more...
Just added is an add-on option that will ship a 40" x 32" Hand-Drawn Full Color Map that rivals the best maps ever made for RPGs (You can easily upgrade to a ultra-quality copy signed by Alyssa Faden and hand numbered, limited only to the KS)
Map example...(this is maybe 5% of the map...shown for detail)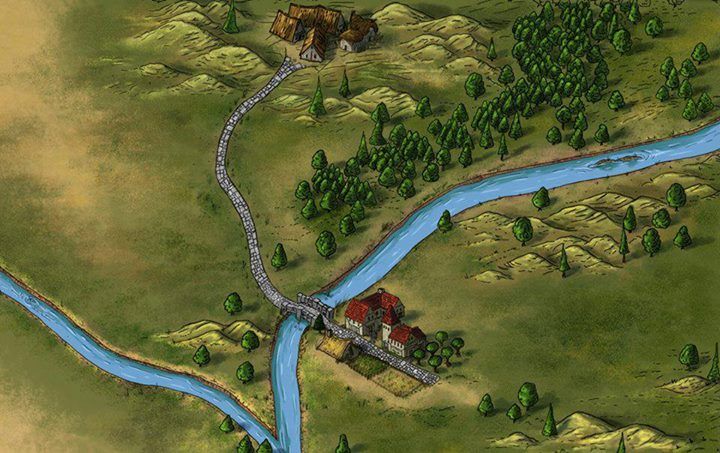 Currently the unlocked minis include-
9 Goblins (7 Warriors and 2 Lieut.) Each one an individual sculpt. No doubles, no variants)
2 Gnomes (same gnome but upgrade has his familiar)
1 Huge 6 Legged Reptilian Monster that is over 42 mm tall (this is an add-on for half of the retail of equivalent sculpts)
2 Reptilian Pack Scavengers. Once again each one unique.
And in $551 (as of this writing) we add 2 Restless Undead (Think Zombie), also both custom sculpted.
With 10 more completed or actually in process sculpts ready to be included as soon as funding justifies them. Plus the ability to add as many as the funding allows until everything in Whisper & Venom has its own custom figurine.