Protocol and Translation
Validated User
Yer a wizard, VGO.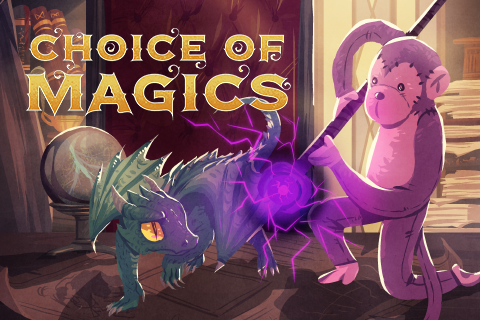 Since
my DinoKnights
LP is over, I decided to run another Choice of Games entry. This one is
Choice of Magics
by Kevin Gold. If you weren't here for the last one, this will be a group let's play where the audience votes on what to do next. In the event of a tie, I'll flip a coin.
Let's begin.
Chapter 1:The Lost Academy

You push yourself out the window of an ancient classroom, clutching a musty tome of vivomancy magic, and land with a roll on the cobblestone path below.

Above you, it seems to be night, and you're momentarily confused: how are you seeing stars, when stars have been obscured by clouds for over two thousand years? But then you realize the twinkling lights must be flecks of quartz in the rocky ceiling above, reflecting the light of the magical streetlamps below.

Those streetlamps continued to shine even when the Neighbors' magic pulled this academy underground. They shone underground, while above ground, Abraxas walked the earth and declared that magic was forbidden. They illuminated this ancient place of learning, while everywhere else, wizards were put to the sword.

You still can't believe your luck in finding this academy before the Church did. When you and Tal began following her bounty, a great burrowing wurm, you had no idea it would burrow all the way to this sunken academy and its long-buried treasures. Tal slew the wurm, and its final thrashes collapsed the tunnel behind you—but apparently not before an inquisitor followed you inside as well. He must have been shadowing you until you got your hands on this tome of magic, whereupon he shouted that you were under arrest—and here you are, more or less.

You have no idea how the inquisitor found you in the first place. Sometimes the Church has an uncanny knack for knowing things. You're not a wizard yet, but you're not sure the inquisitor cares about this technicality. He probably wants you dead.

Tal prepares to jump from the same second-floor window you did. Her fingers move to her eye patch, as if she's worried she will misjudge the distance. She hesitates a moment too long, and the inquisitor's crossbow bolt lodges itself in her leg. Tal grunts in pain, leaps forward with her good leg, and lands ungracefully, faltering because of the wound.

"Are you all right?" you ask her.

"Meh." Gritting her teeth, Tal jerks the bolt out from between the pieces of her black leather armor, ignoring the trickle of blood that results. "I'm fine, but I might have a little trouble climbing up to that open window over there. Which is too bad, because it seems like our best escape route." She nods to the tome in your hands. "Anything in there that can help?"

"I'm certain of it!" you say eagerly. You open up Praefata Vivomancia, or "Introduction to Vivomancy," the tome that you managed to peruse a bit before the inquisitor showed up. You recall the warning in the book's preface: the magic of life may have unintended consequences.

Well, isn't that true of everything in life?

1.Heal Tal's leg so we can keep running to the ancient dueling ground ahead where we can make our stand.
2.Sprout wings and carry Tal to a high dorm window, where something's glittering.
3.Part the wooden wall of the building next to us, dash inside, and reseal the wall.