Remarkably expressive bandages
RPGnet Member
Validated User
AND SO IT CAME TO PASS
that I found myself re-reading KoboldLord's old
Let's Play SporkHack
thread.
AND LO
did it rekindle my interest in NetHack. Which pretty much catches us all up on relevant current events.
If you have never read that thread, and if you like NetHack and its variants, that thread is a masterpiece. KoboldLord's mastery of both the game mechanics and the craft of writing an engaging "Let's Play" thread are on full display there. Even if the thread is nearly 10 years old at this point, and even if the game mechanics have moved on to some degree, there is still a wealth of information to be had about the game in that thread.
The thread is so useful, in fact, that it (along with the
NetHack wiki
) helped me to reach my first ascension (chronicled in the later bits of the thread) roughly two weeks after I started play.
As it happens, that was also my last ascension, because my interests are mercurial and my attention span is brief, and I haven't touched NetHack at all since my final posts in that thread some 9 years ago.
<dramatic movie trailer voiceover>
UNTIL NOW...
</dramatic movie trailer voiceover>
Since that time, vanilla NetHack has been updated. The last time I played, it was version 3.4.3, which had (at the time) been the official version of NetHack for seven years or so, and would go on to be the only official version for another five. But in 2015, the DevTeam released NetHack 3.6.0, the first major update in 12 years. And now we're up to version 3.6.1. So off I go to try and ascend once again and maybe we'll run into some of the more interesting changes they have implemented in the most recent versions.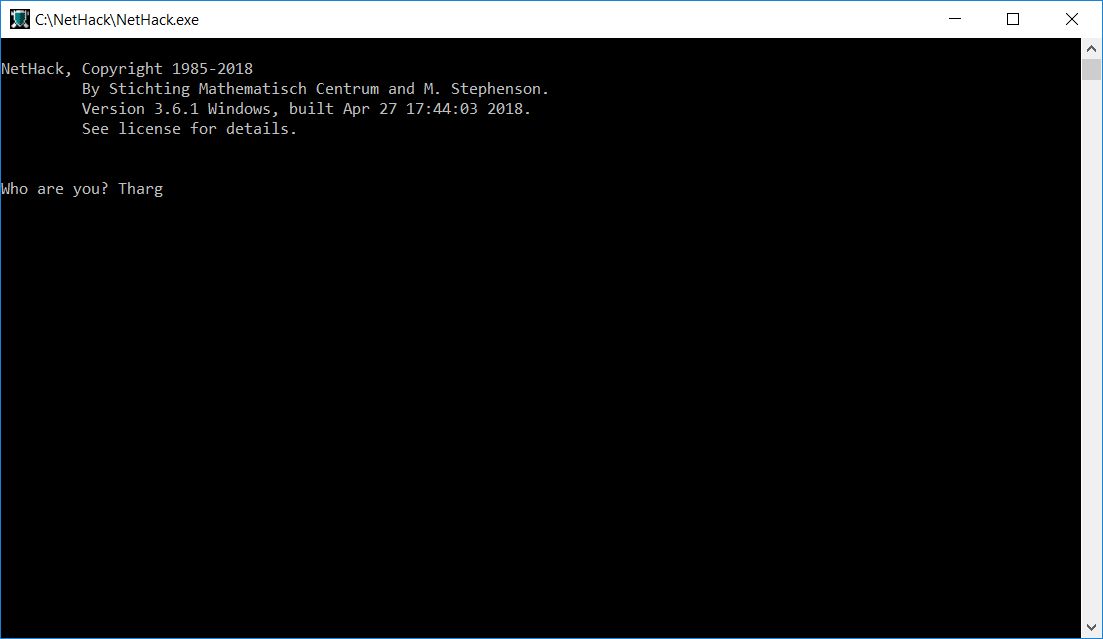 Direct. To the point. I like it.
I should point out, btw, that I am NOT a master of the game like KoboldLord. Realistically, my sum total of NetHack experience covers about three weeks. And that was 9 years ago. So I don't expect this to be easy.
I will at least try to make my inevitable deaths entertaining.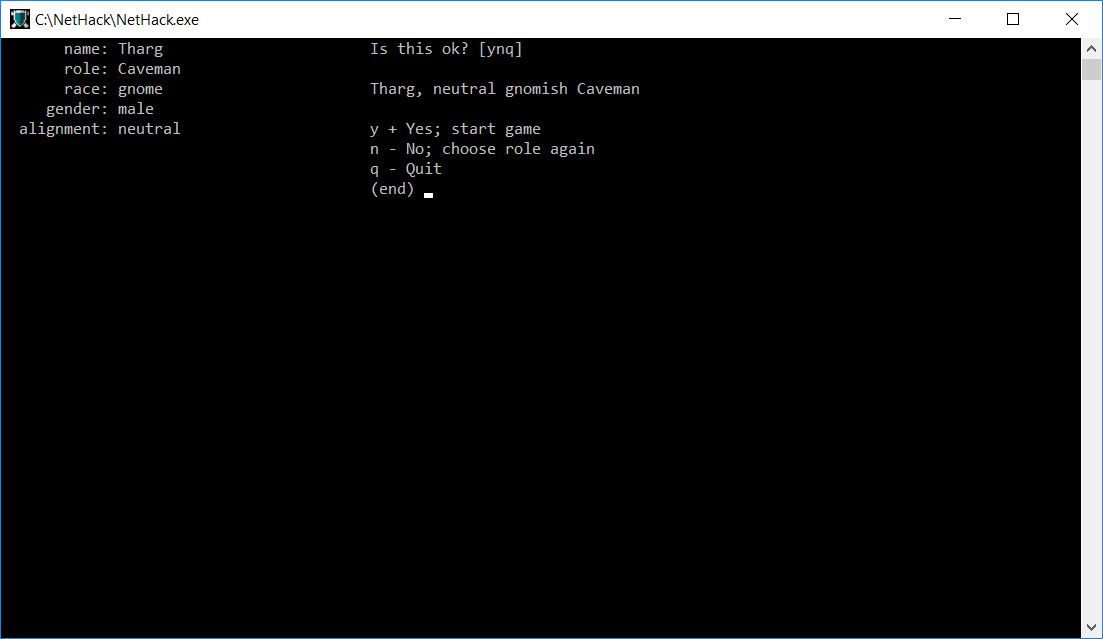 I find the concept of a Cavegnome to be hilarious. Nasty, brutish, and short. My last attempts to ascend were with a Cavegnome named Tharg, and that's what we'll stick with now.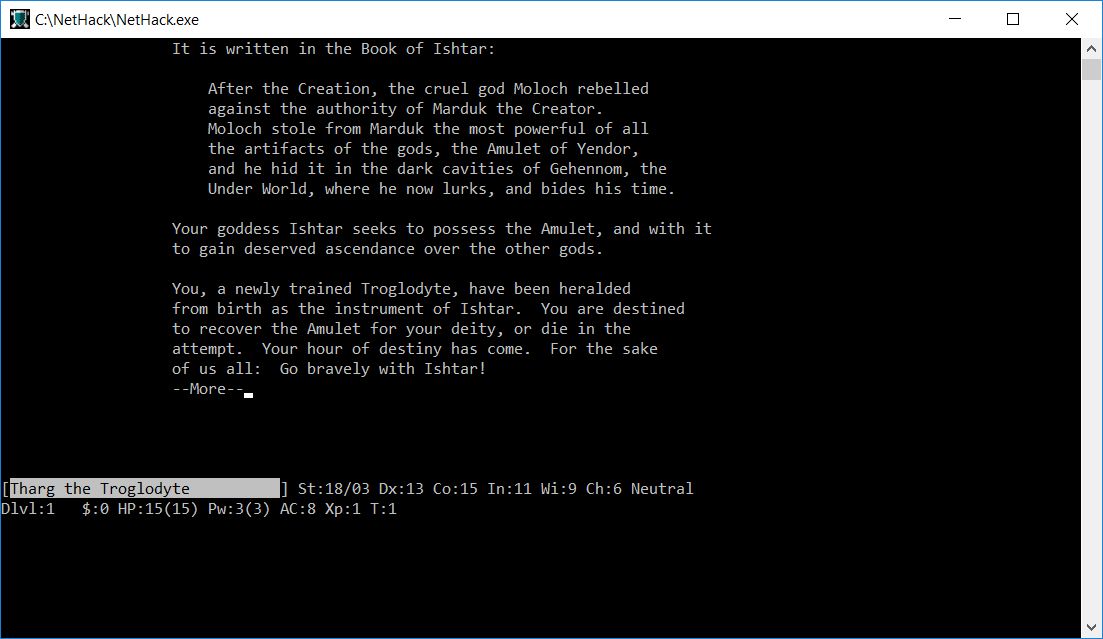 Hopefully the goddess Ishtar will guide our steps!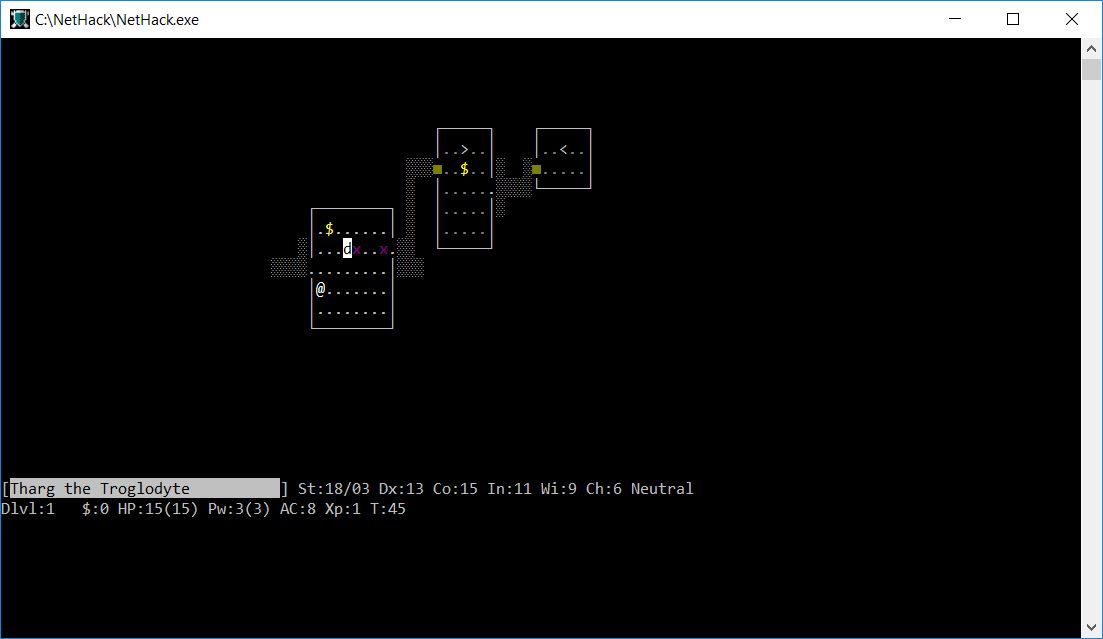 ...and, okay. Confession time. The game recounted here in this post is not actually my
first
game in 9 years. There have been a few others over the past few days to help me regain some very basic mechanical knowledge of how to play the game. When you haven't even touched a particular game in 9 years, you forget (or at least I had forgotten) most of the barest rudiments of how to even play at all. Didn't remember most of the commands, didn't remember how to buy or sell things in shops, and so on. Lots of very basic knowledge that I needed to re-learn. So there were a few exploratory games without any purpose other than remembering "How do I do X again?"
During my ascension run a decade ago, I used the Vulture's Eye 3D interface that makes the game look kinda Diablo-esque. The gameplay isn't any different to the standard ASCII interface, but the game view is an isometric 3D view. I was ridiculed by Matt Colville for my rank heresy.
(The Vulture's Eye version is still available, btw, but has been renamed simply "Vulture" and is available on Steam for a paltry $3. If you have been mildly curious about NetHack before but have been put off by the ASCII interface, Vulture might be right up your alley.)
Anyhow, I didn't want to use Vulture this go around. I wanted to be
traditional
. I wanted to get the full ASCII "old Unix grognard" experience. Problem is: I'm 51 years old now, and these old eyes ain't what they used to be. Gleaning information from the ASCII interface is not easy when you have to squint. So as much as I would like to play the game in full ASCII mode, I'm going to have to use the graphical UI client they made for Windows.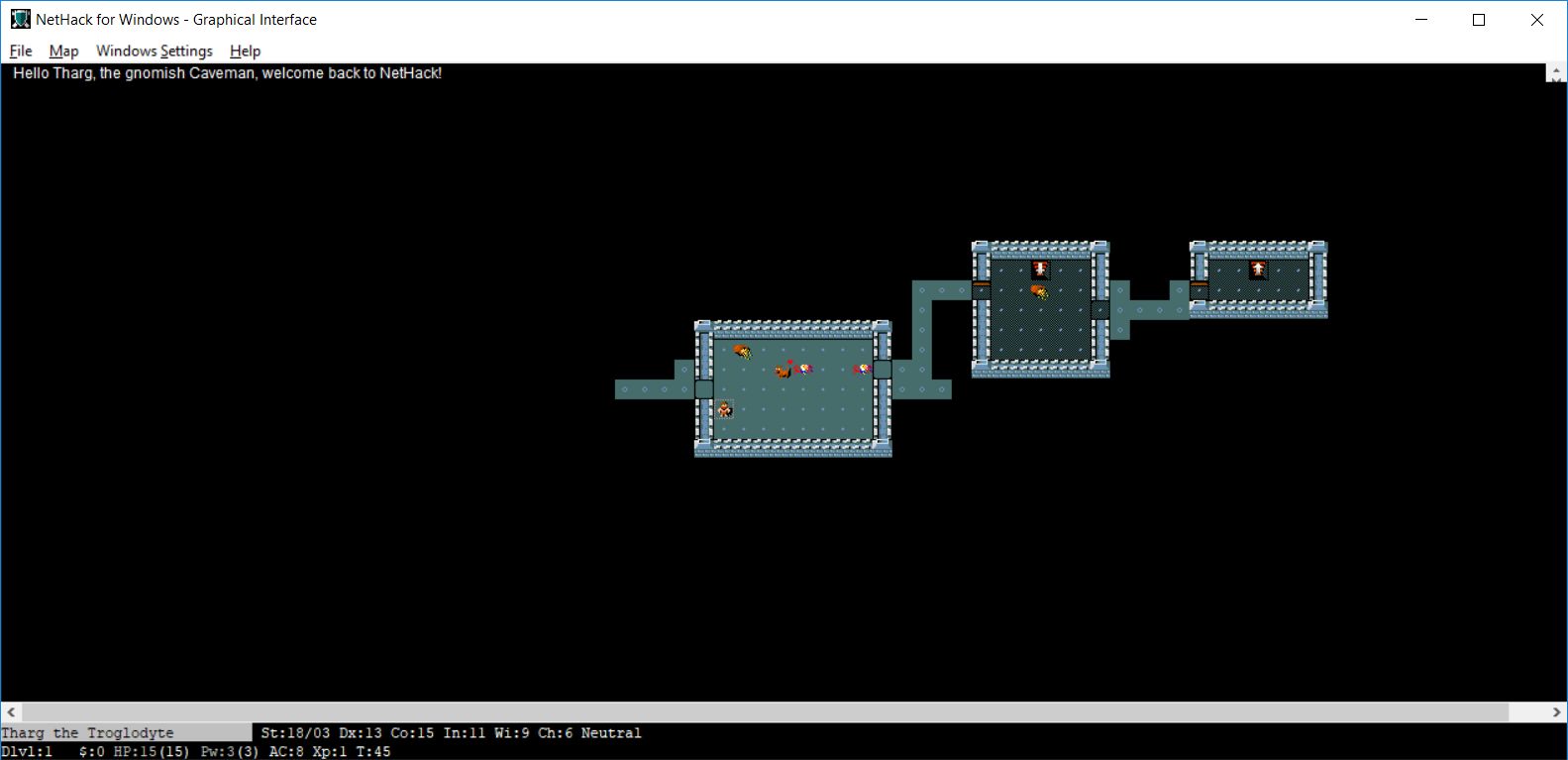 Uh...
That's...not an improvement. It is possibly even worse.
But oh, hey, there's this command here: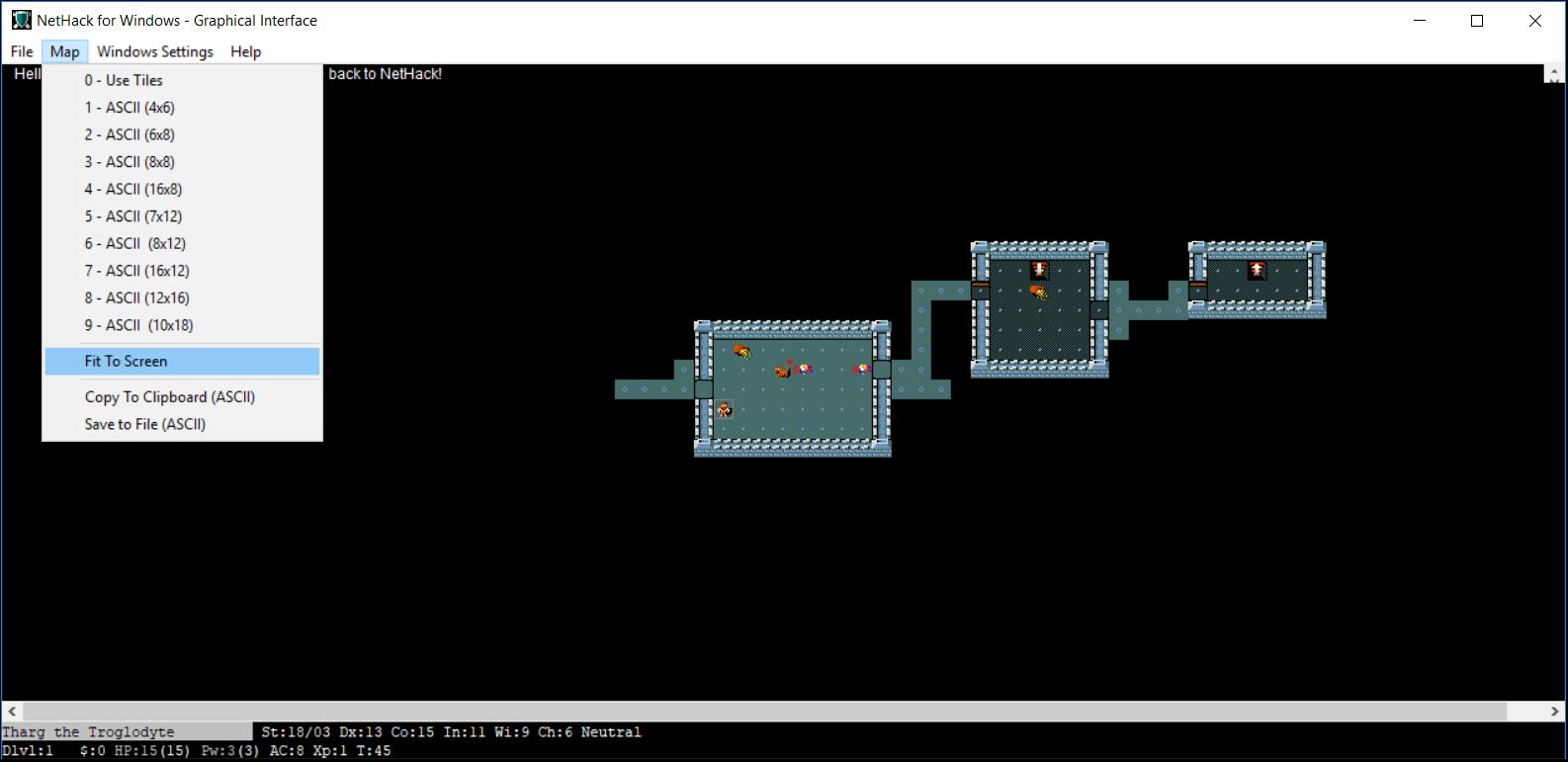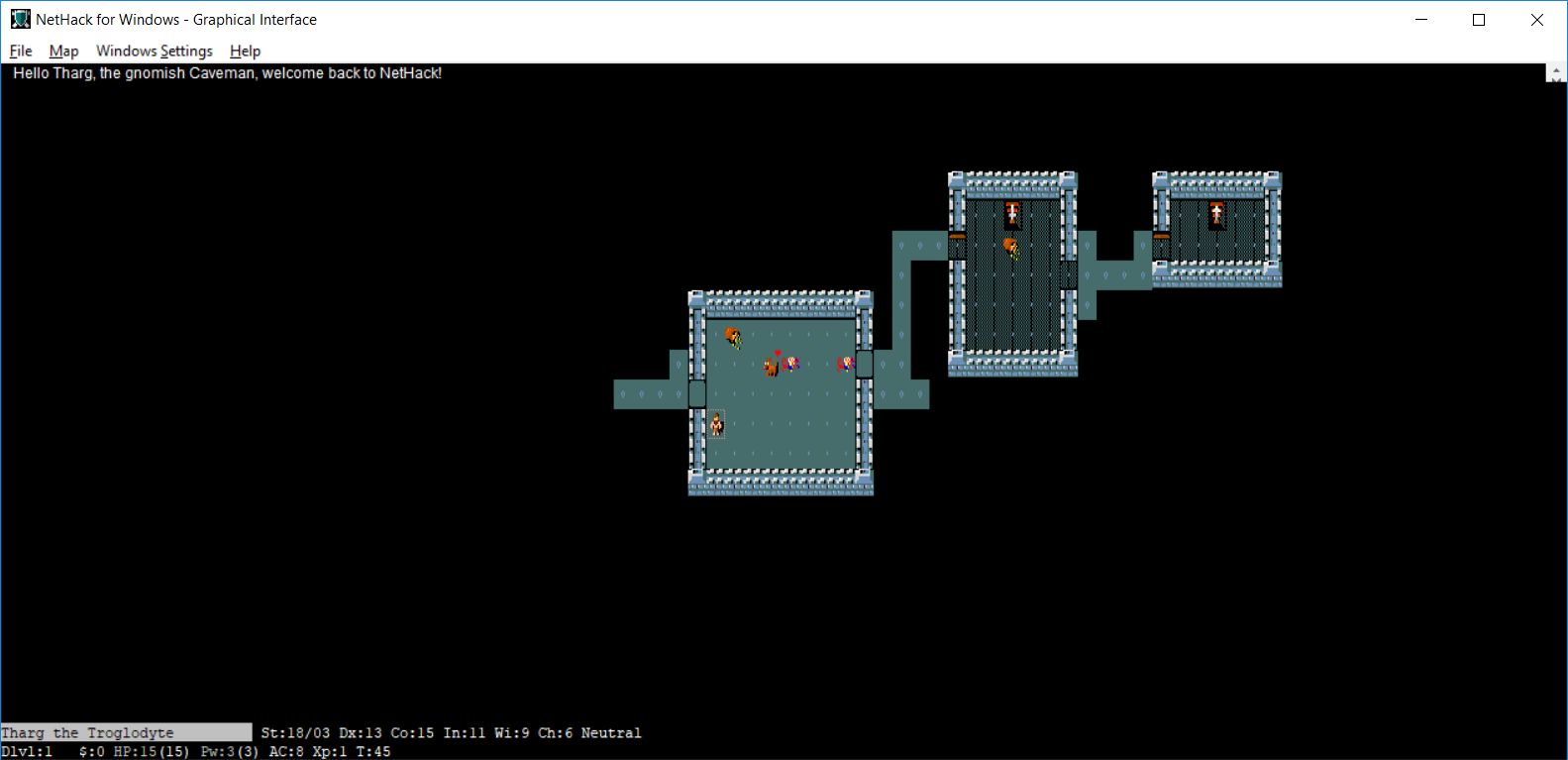 And...oof. Nope. Not helping.
Hrm.
<sounds of internet being consulted>
Ah-hah!
<mechanical sounds of tools being used to tinker with something>
<ratchet noises>
<mild clanging>
<silence>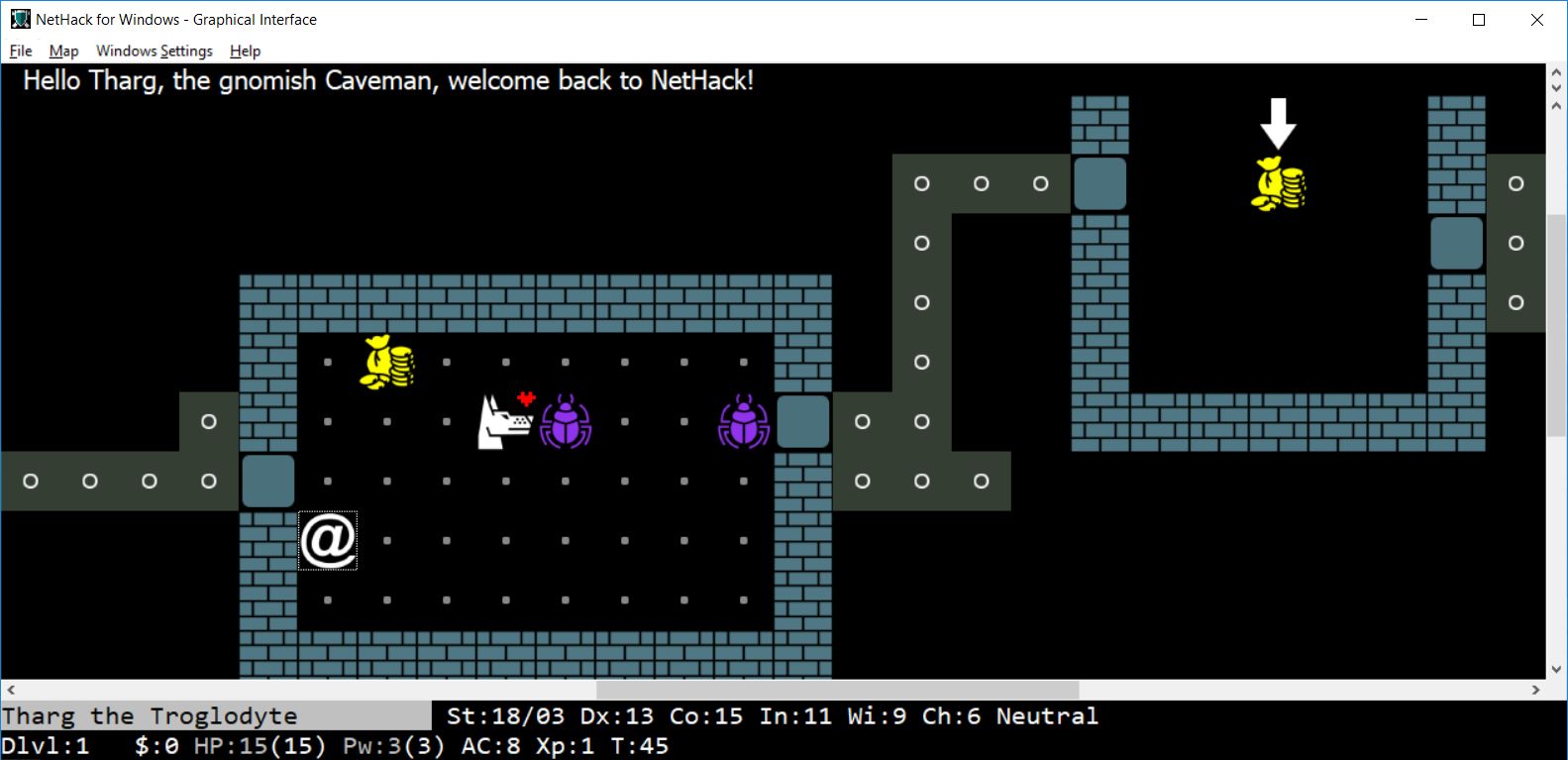 THERE we go. MUCH better.
This is
the "NetHack Modern" tileset
for the Windows GUI client. Comes in four different tile sizes: 32x32, 48x48, 64x64, and 96x96. The version I'm using is the 48x48 tileset.
This is not a different program. This is the standard "NetHackW.exe" program that comes with the zip file you download from nethack.org. But it is possible to use a different set of graphics by frobnosticating very mildly with the defaults.nh file.
N.B.: I have also edited the corridor tiles to give them an actual color. The default tileset simply uses white circles/dots on black tiles for corridors, so the final result makes the corridors look like floating circles in space. I like my corridors to feel more corridory, so I did some very basic color editing in GIMP for those tiles.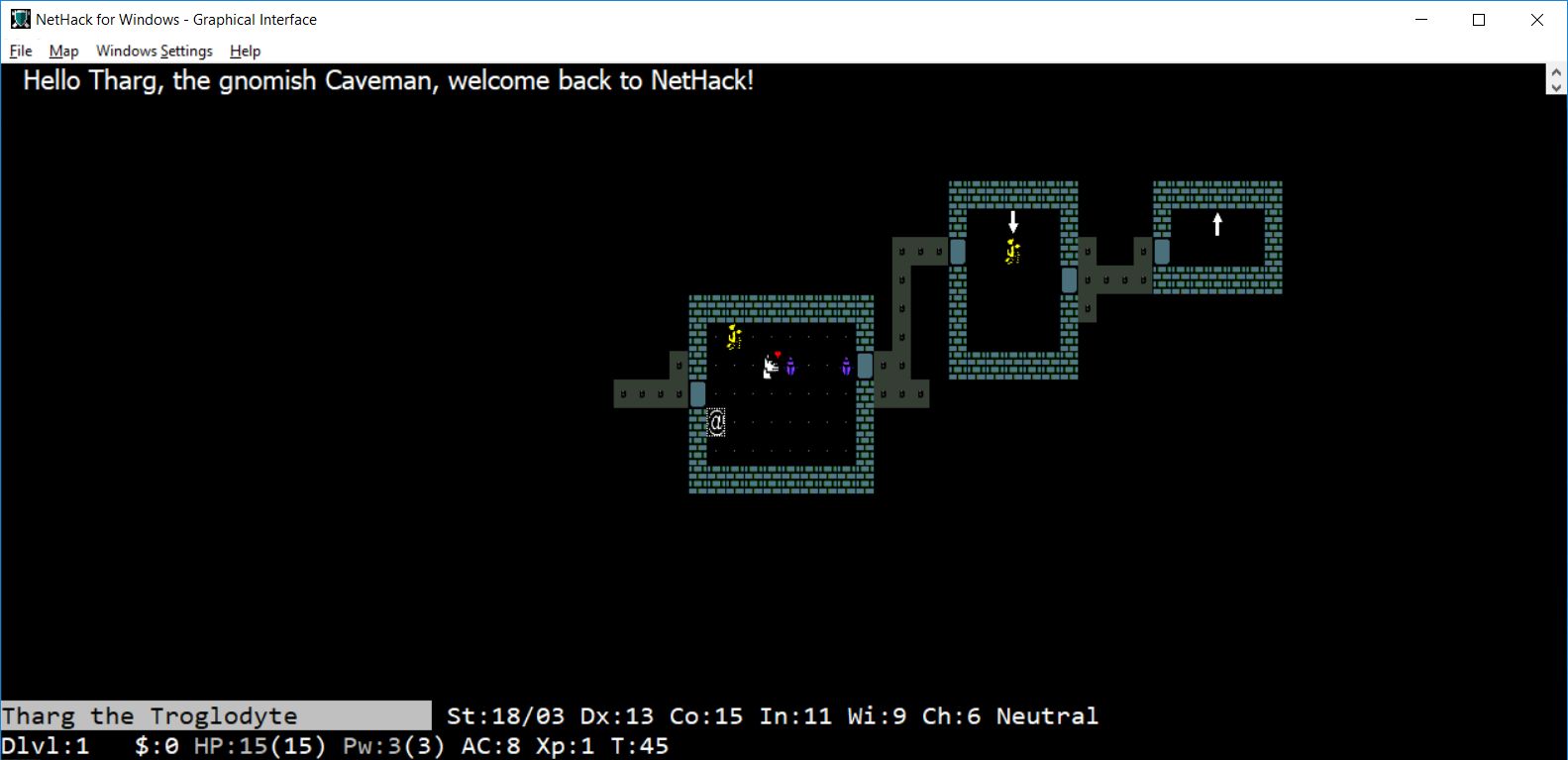 Now that "Fit To Screen" function has a use: Letting us see the entire map when we need to. We can even play the whole game like this, but I prefer the up-close view. I'll switch to the full map view as necessary.
Last edited: