Remarkably expressive bandages
RPGnet Member
Validated User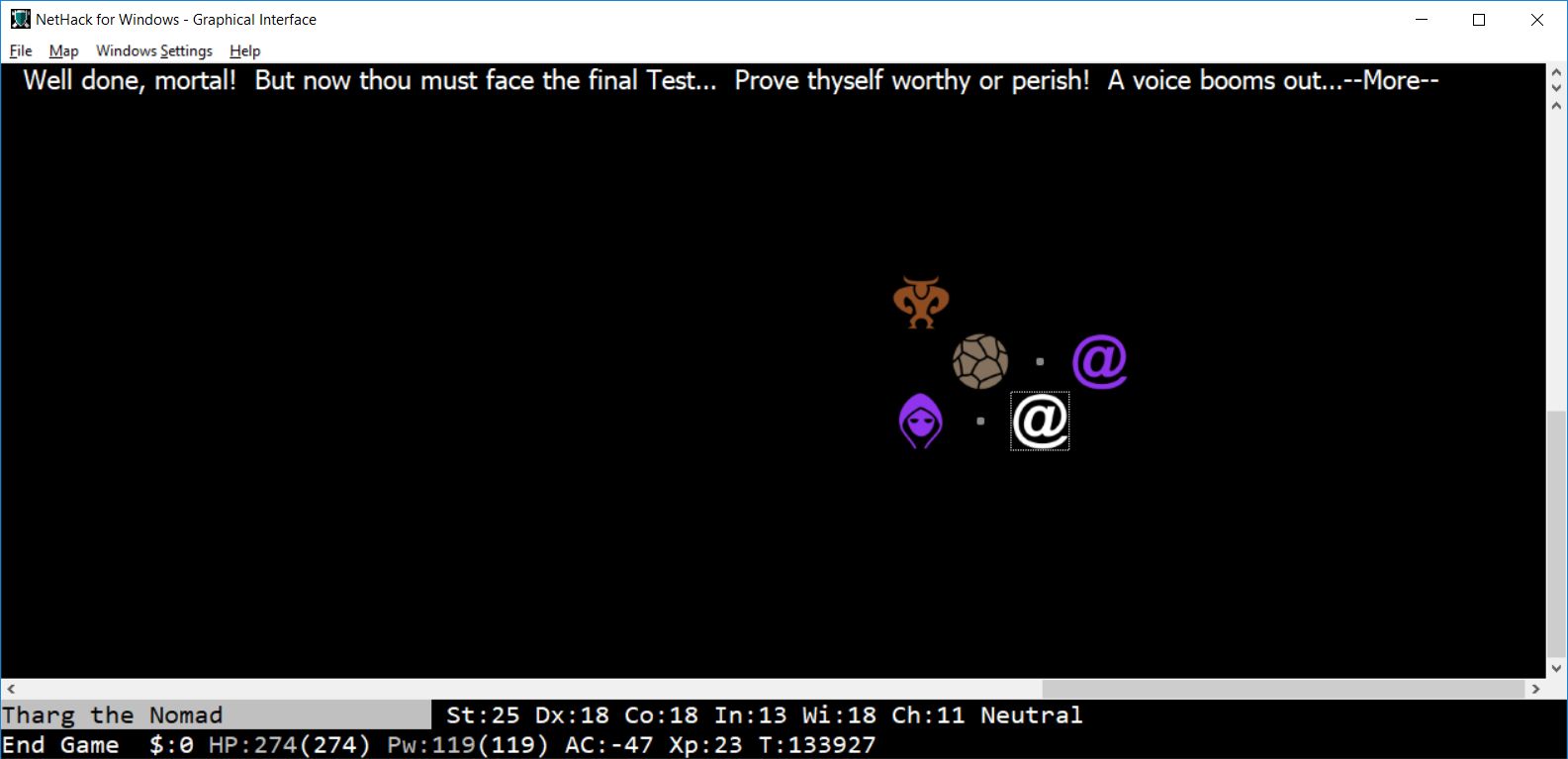 And here we are, Plane of Erf. Apparently Tharg was able to successfully steel his resolve. Rodney awaits us to be killed one last time.
Y'know, for being as old and as supremely wizardly and sorcerous and magical and so forth as he is supposed to be, you'd think he woulda realized the importance of reflection and magical resistance. Some "expert".
One of these days, when I have fully mastered the game and have nothing better to do, I wanna fully map out the Plane of Erf, just to see what the structure is like. Though I imagine someone else already did so decades ago.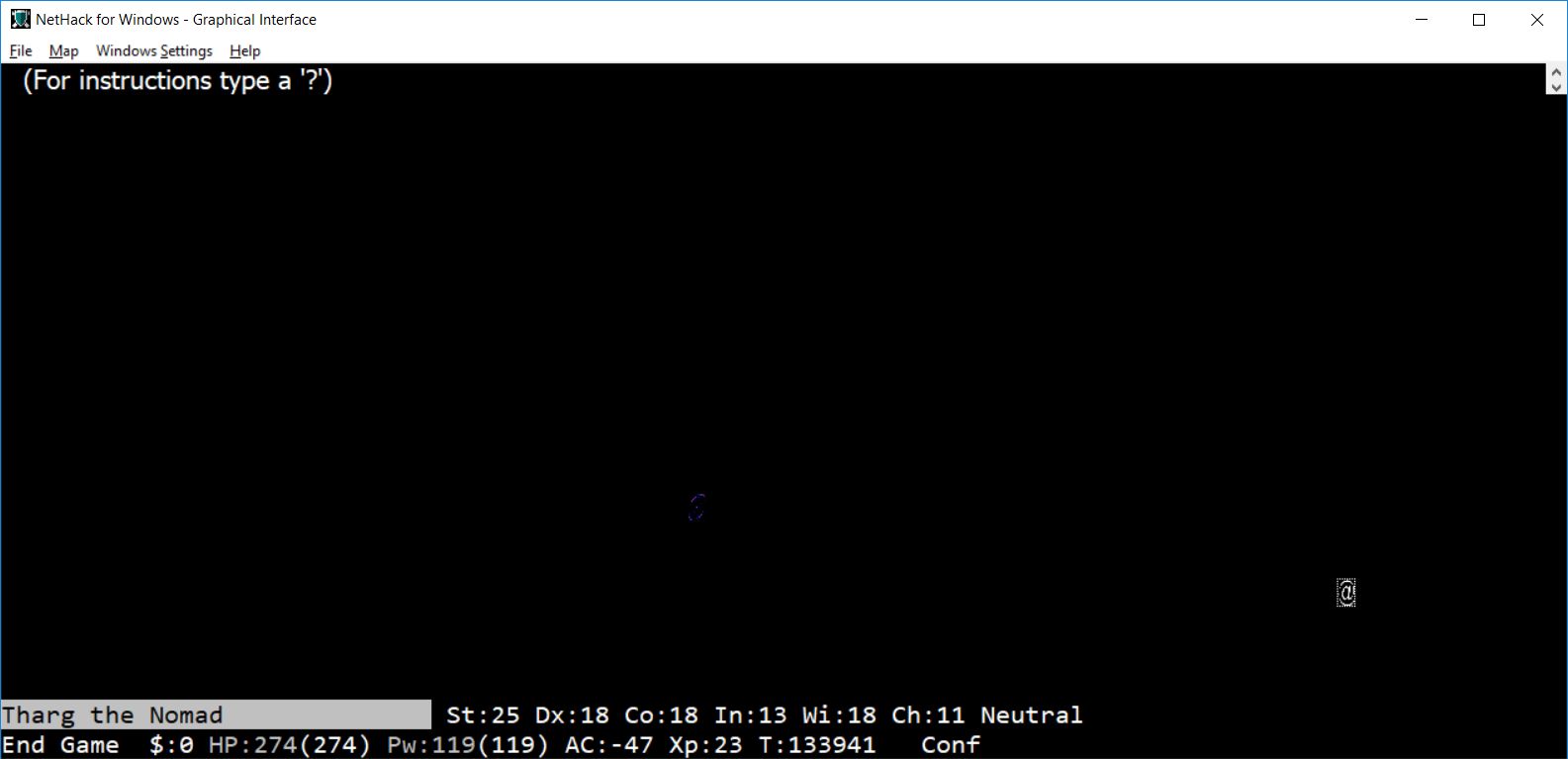 Well it's damned hard to see, but my completionist tendencies compel me to post this screenshot anyways. Tharg read a scroll of gold detection while confused, and if you do that, magical portals show up (along with any traps that might be in the area). If you squint, you can see a slightly blue blob in amid the inky blackness. That's our portal.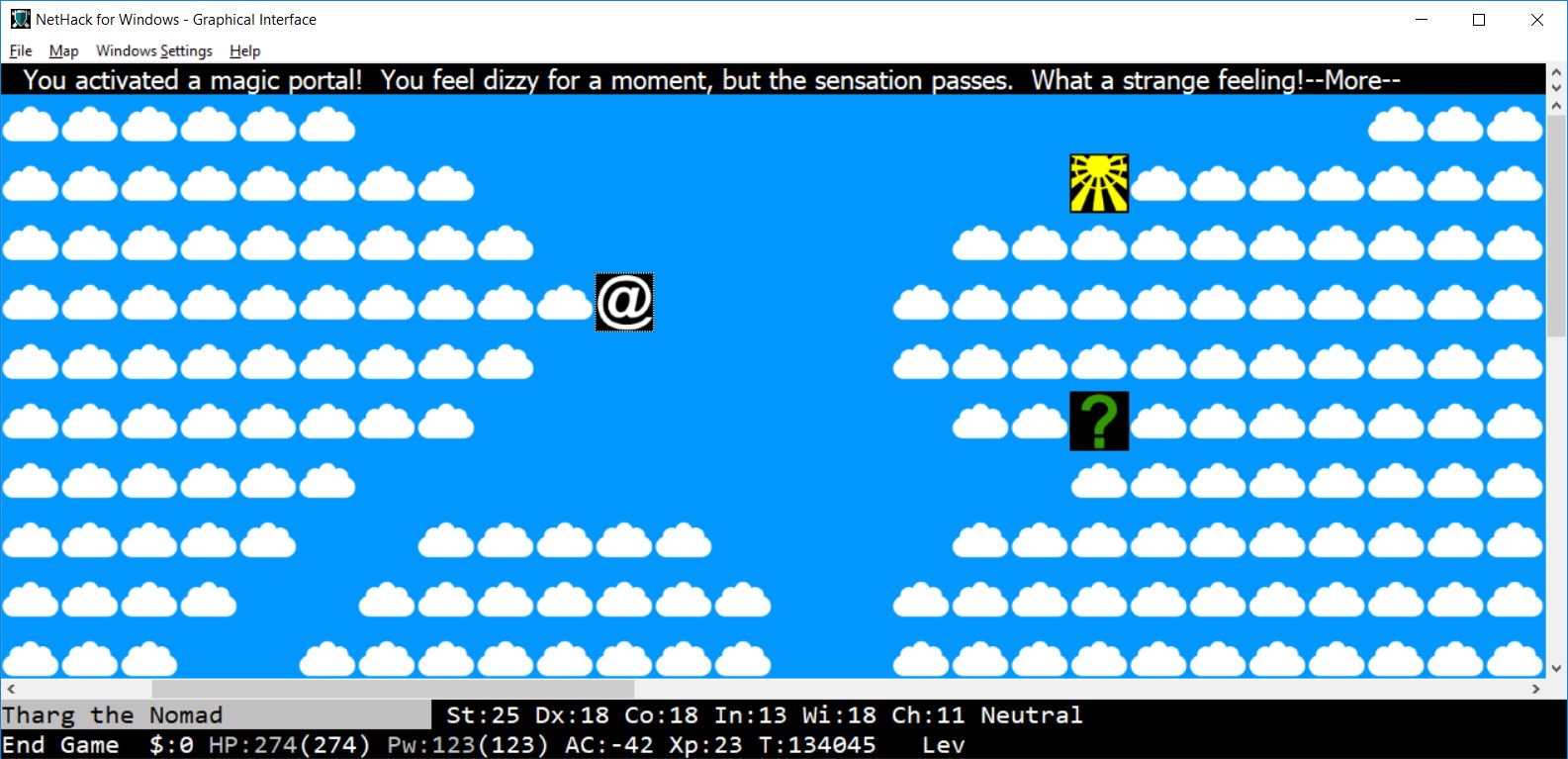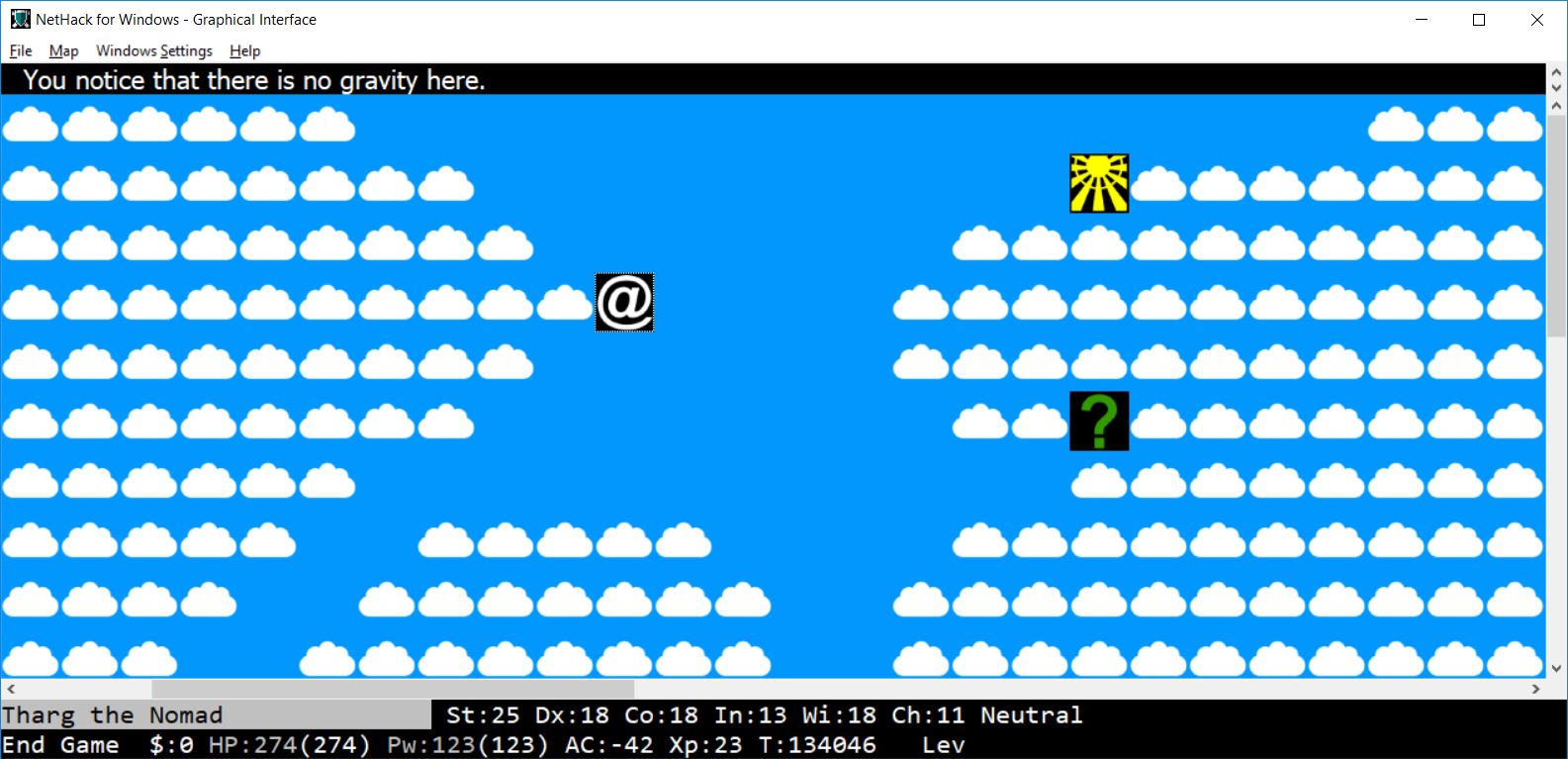 Plane of Air. This was the plane that caused me the most trouble the last time I played. Let's see if I can make it to the other side of the map before I get killed.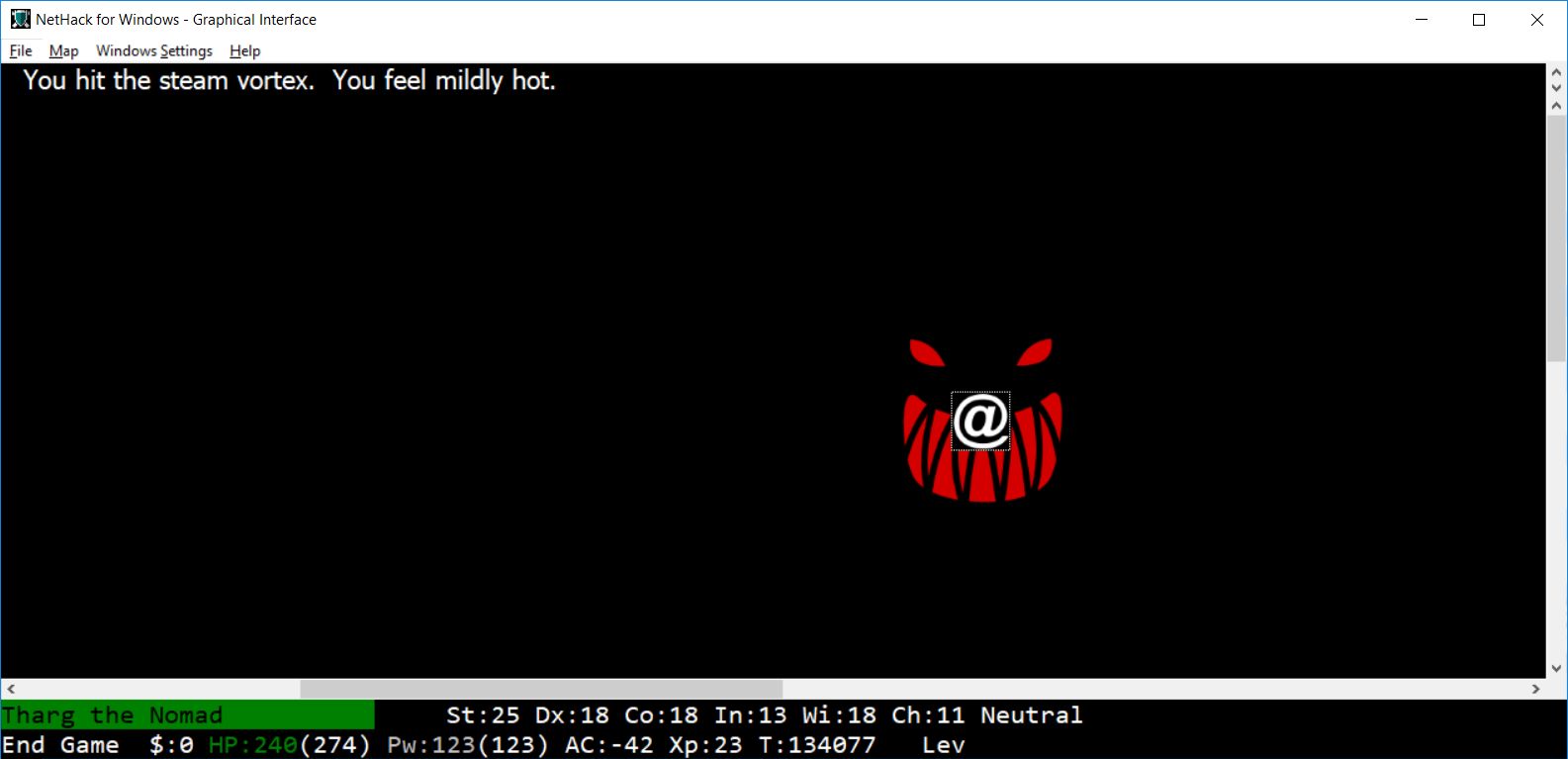 Vortices and elementals are not the same. Being engulfed by an air elemental can knock off quite a few HP. Being engulfed by a steam vortex is like a relaxing sauna. You can spend an indefinite amount of time inside one of these. During my archaeologist run, I was on the verge of a failed ascension run before landing in one of these. Healed up, wrote out some scrolls, had a few margaritas, and came out as good as new.
Tharg isn't in quite as bad a shape as Jones the Archaeologist was, but he'll take five here.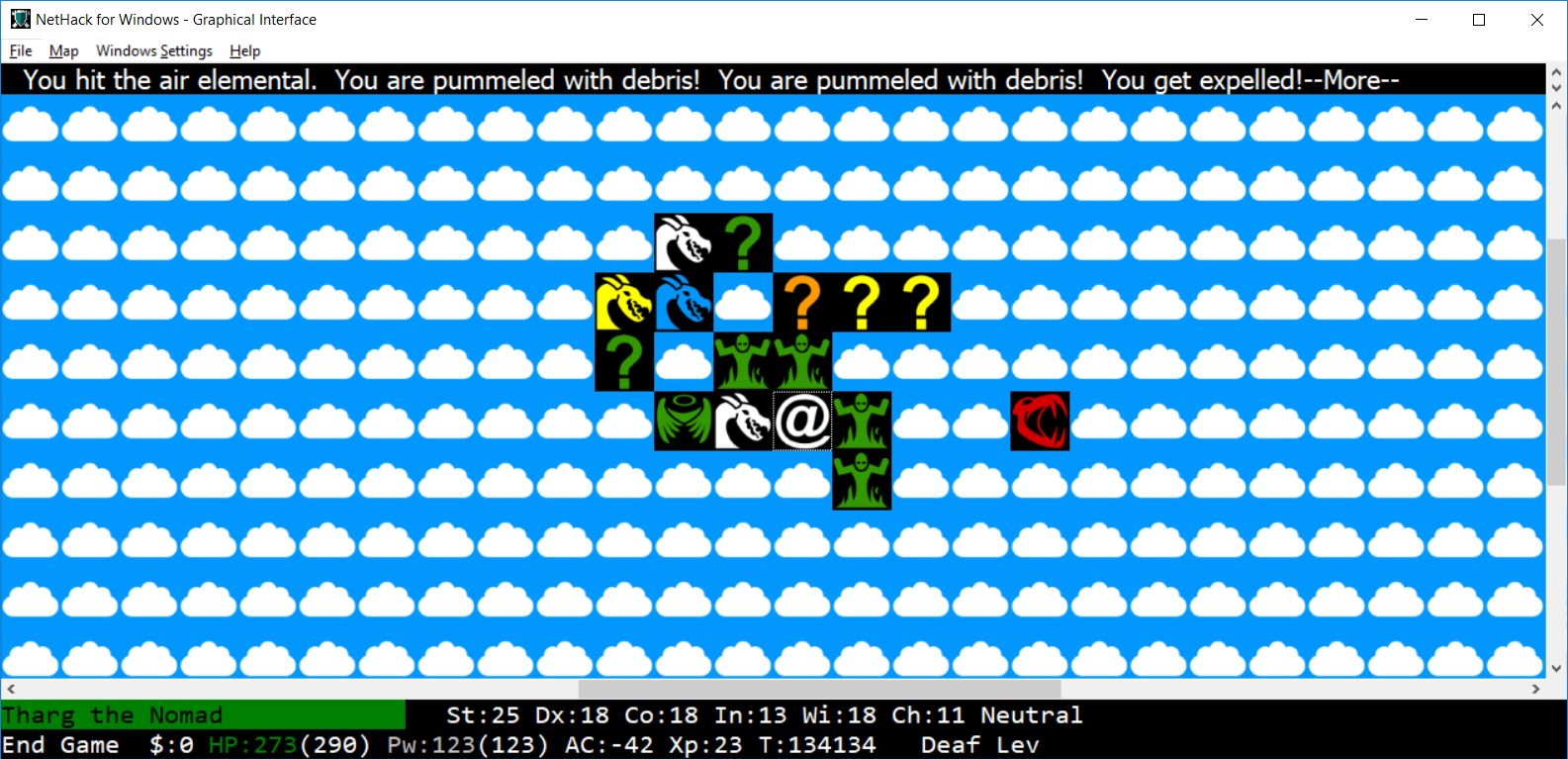 I may have spoken too soon. The vortices will eventually spit you out, so you can't hang out in one for more than a handful of turns. And after that you're at the mercy of the air elementals.
Tharg can't take a step without getting engulfed by air elementals. Can't get away, can't move, surrounded by dragons and air elementals. Kinda obnoxious. Even worse, the air elementals on the Plane of Air are much tougher than the ones you find in the dungeon, so they're much more of a threat. Time to bust out the potions of full healing. Not sure what my options are here.
Note also that Tharg is now deaf. If you're inside a cloud, there's a chance of thunder and lightning, which will blind you and deafen you and may paralyze you for a few turns while the air elementals have their way with you (which is just as exciting as it sounds). In v3.4.3, the clouds were stationary and could thus be avoided. In v3.6.x, the clouds move.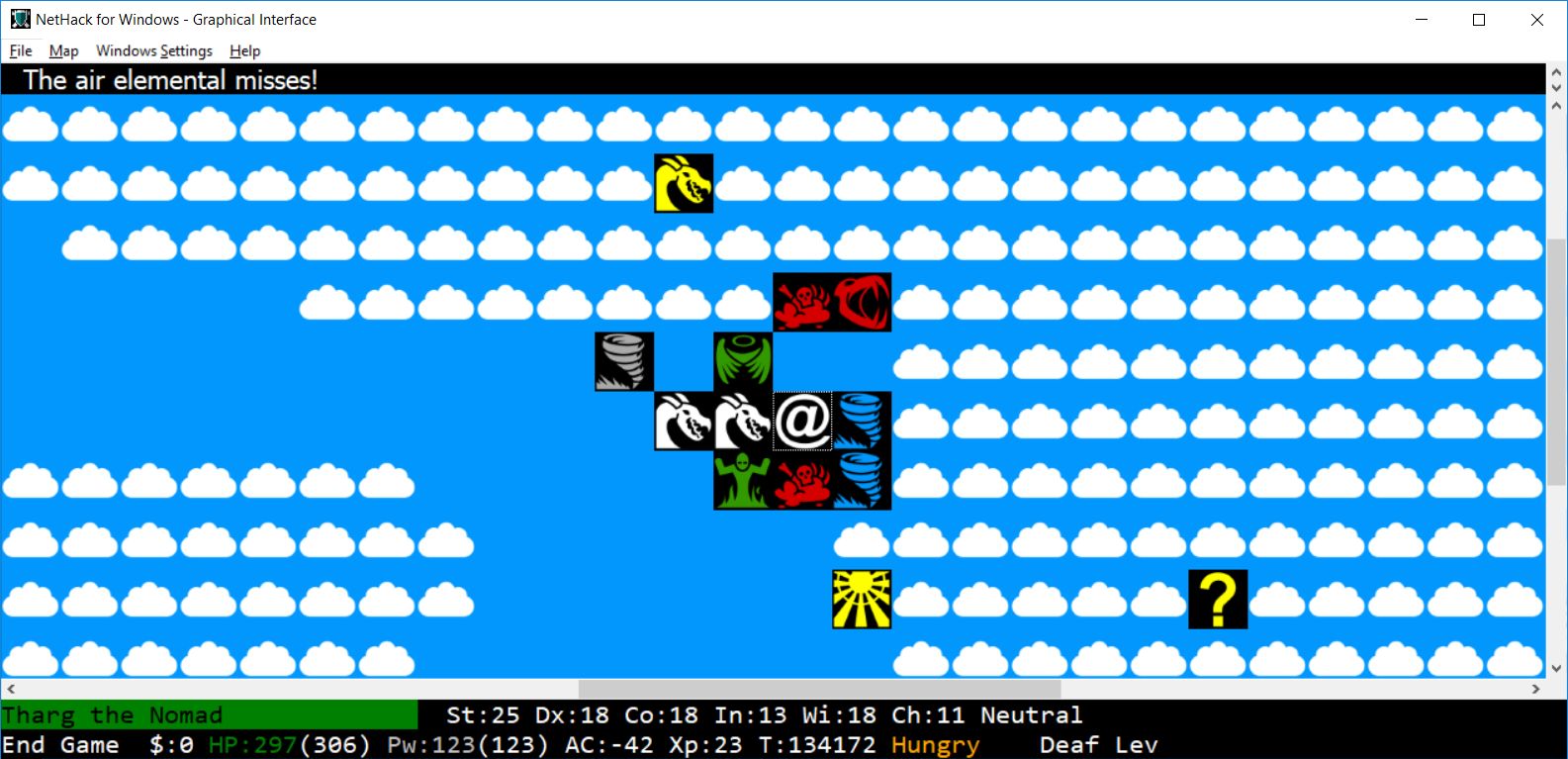 Tharg has thinned out the crowd somewhat. Things got a little hectic when Rodney showed up again. I didn't think he could appear randomly once you were in the elemental planes. Guess I was wrong.
Hated to do it, but I busted out the Wand of Def and killed some of the elementals along with Rodney. Now let's see if we can find that damned portal.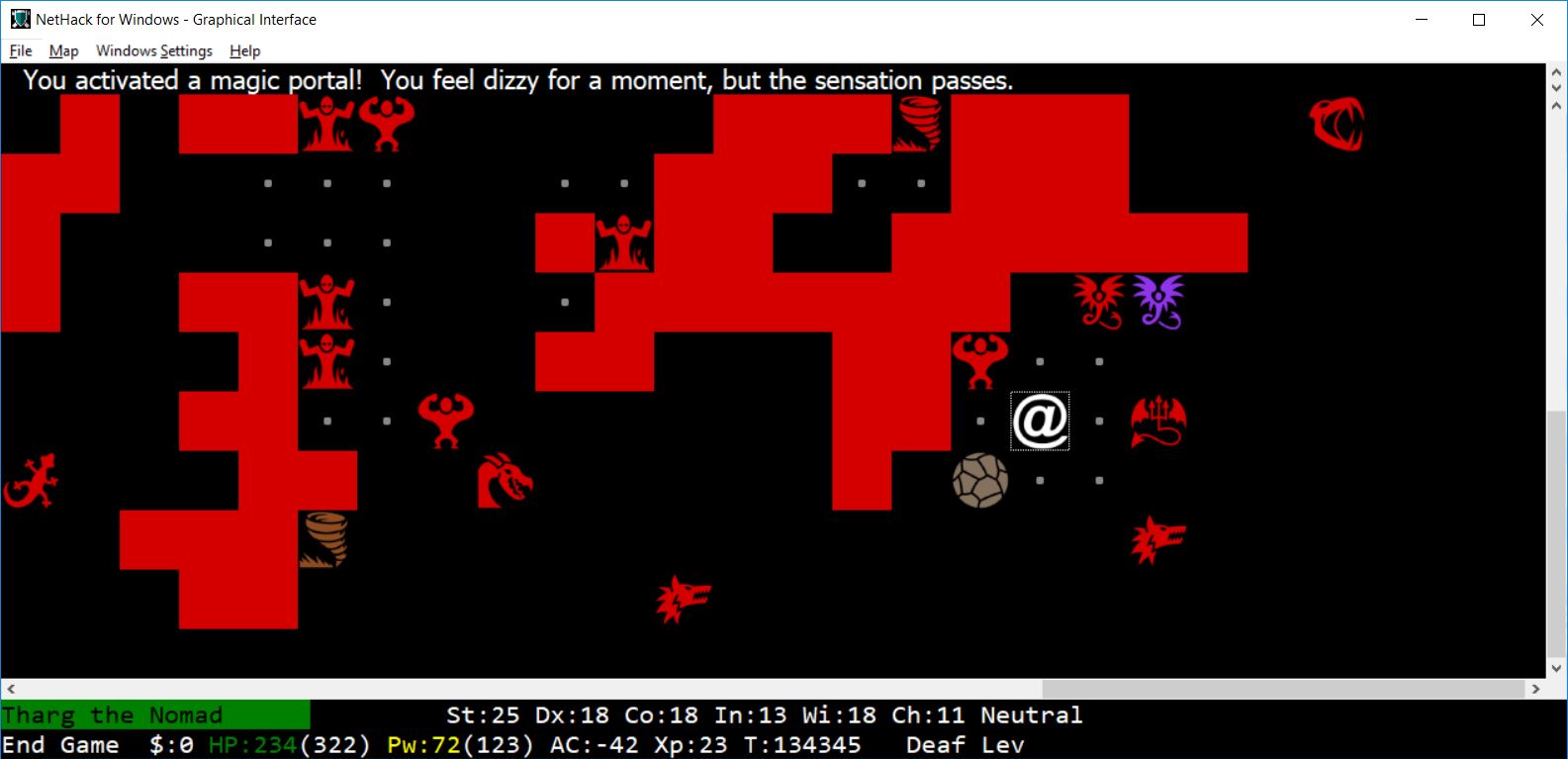 THANK CHRIST.
Burned through almost all of my potions of full healing. Started with seven. Used six in the Plane of Air. Only got one left. Plane of Air is teh sux.
But that is behind us now. Time to play tag with the fire elementals.
This is an obnoxious level for a completely different reason: So much spam. Every step, some critter or other is walking into a trap that doesn't affect them, but you get all the messages anyways. Though I did see a few critters get killed by a stinking cloud, so that was cool.
The other problem with this level is that there are so many traps on the level that it's hard to pick out where your portal is. Usually you have to wait until some fire elemental wanders over it by mistake (which teleports that fire elemental to the Plane of Water, oops).
Last edited: