Registered User
Validated User
Nethack is a classic roguelike game, probably one of the most popular activities for bored tech geeks ever, not counting looking at porn. The last official update by the startlingly prescient DevTeam was in 2003, and since then a number of other individuals have made modifications to the open source game to produce several variants. Sporkhack is one such variant. I honestly favor it mostly because of the reduced tedium it gives me in Gehennom, but it also corrects some of the more outrageous bugs and abuses in vanilla Nethack.
Nethack has a reputation for being a very, very, VERY hard game. This is technically true, but Nethack is also almost always fair, too. Barring a truly rare and unfortunate turn of the RNG, every game is winnable from the start and any deaths the player characters experience are the player's own fault.
In this thread, my objectives are as follows:
#1: I want to make the thread entertaining for readers, whether they are experienced roguelike players or complete newbies.
#2: I want to encourage new players to give this free game a shot. You lose nothing, and can expect hundreds of hours of fun. The first character will involve many more screenshots and text as I explain the controls to these potential new players; experienced players please bear with me.
#3: I want to ascend at least one character so non-players can see the end of the game, and I want to kill off many more. Readers can request class/race/alignment/gender combinations, and when the current character's game ends, I'll go with whatever people are requesting for the next character.
Vanilla Nethack can be downloaded
here,
and Sporkhack can be downloaded from
here.
I'll call the first character Armok in honor of the last excellent roguelike I played for a Let's Play. Anybody who wants to name the next character can suggest something, and I'll pick whichever one looks good.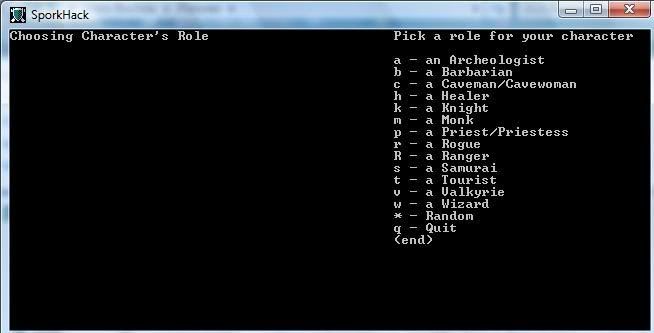 We'll have Armok be a barbarian this game. Barbarians are very strong in the early game, because they have powerful starting melee attacks, a good number of hit points, and most importantly innate poison resistance. They suffer later on due to poor magic skills and lack of good ranged attacks, but an amusing PC death is not necessarily a bad thing.
Barbarians can be either humans or orcs. Orcs can see in the dark and suffer no penalty for cannibalizing other orcs, but they are dumb. Armok is no moron.
I'm pretty sure the original Armok was male, so this Armok will be male, too. Gender is 99% cosmetic in Nethack anyway.
Barbarians can be either neutral, in which case they'll worship Crom, or chaotic, in which case they'll worship Set. Properly choosing your alignment to match your play style is absolutely crucial to enjoy the game!
Lawful gods expect the player to cut down hordes of enemy monsters, mounding up their corpses on their altar as blood sacrifices.
Neutral gods expect the player to cut down hordes of enemy monsters, mounding up their corpses on their altar as blood sacrifices.
Chaotic gods expect the player to cut down hordes of enemy monsters, mounding up their corpses on their altar as blood sacrifices.
That's pretty much it! Sure, neutrals can wish for better artifacts, and chaotics can profitably commit human sacrifice, etc., but as long as you can make a big enough mound of corpses as blood sacrifices to your blood god, you're in good shape.
Armok is neutral. All enemies must be slain with equal fervor.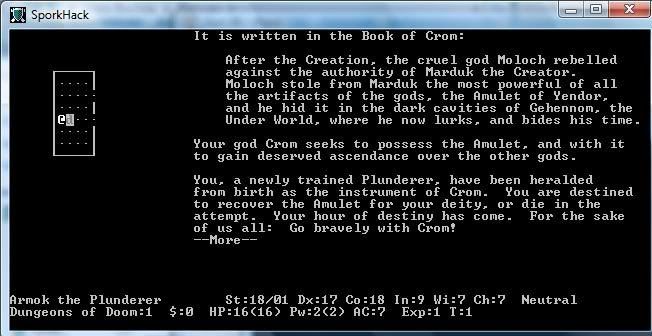 And here we have the opening story explaining why our hero is descending into these dungeons at all. Moloch has stolen the Amulet of Yendor and given it to his High Priest(ess) at the very bottom of this dungeon, and it is up to Armok to get it back! On the way, we can expect him to exterminate thousands of monsters who rise up to attack him, or possibly just don't move out of the way fast enough.
Game… Start!
Most of the display is easy enough to read with a little practice. The "Hello Armok" bit at the top is the most recent (and at the moment, only) displayed message, which reports most things that happen in the PC's line of sight. The white square a little below it is the room Armok starts in, and the little dots just mark out the dimensions of each tile. Armok always occupies exactly one tile, as do monsters. Sometimes there are items on a tile, too, but monsters never share the same tile.
The white @ is Armok himself. @ usually refers to humans and elves, but it also represents the PC. If you get a chance to genocide some monsters, NEVER do @. That's what we call a Bad Idea.
The lower-case d right next to Armok is a dog or dog-like monster. We'll take a closer look at it in a moment; don't worry about it attacking in the meantime, because Nethack is a turn-based game. The clock does not advance and monsters do not act unless the player moves or acts.
Across the bottom is Armok's stats. Most of these will be pretty familiar to anybody who has played D&D, but I'll run through them anyway.
First we have Armok's name and title. First-level barbarians are plunderers. The title will get much cooler as Armok levels up. Next are the six cardinal statistics, strength, dexterity, constitution, intelligence, wisdom, and charisma. Armok starts with strong physical stats and rather poor mental stats, but he can exercise or abuse his stats as he continues through the game to correct his weaknesses… or squander his advantages. Last word on the first line is neutral, which is Armok's alignment.
On the second line of Armok's stats, we have his current location (Dungeons of Doom level 1), the amount of money in his money pouch (zilch, nada, sucks to be him), his hit points (keep these up in order to not die), and his power (used to cast magic). Next is his armor class, which starts at 10 and improves as it goes down, eventually dipping deep into the negatives. Exp:1 is his experience level (hit points and power go up when he levels up), and T:1 refers to the number of ticks of the game clock that have gone by since the start of the game.
Before we send Armok off killing monsters, there are two commands which are vital to learn. The first one is the farlook command, which lets you look at anything displayed on the screen to get some basic information on it. To use it, press the semicolon button, then press the arrow keys to move the cursor around. Once the cursor is on the thing you want to look at, press the period button. If we try looking at the d-monster next to Armok, we get this: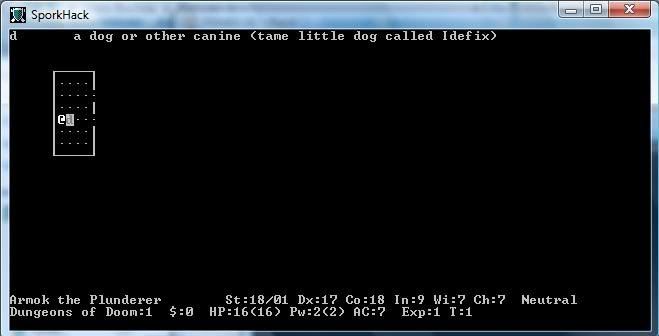 This particular d is our tame little dog, Idefix. Barbarians always start with a pet little dog, which loves the taste of flesh. Fortunately, it will be satisfied with the flesh of our enemies for the most part. Pets are very helpful, frequently growing to be stronger than the PC himself. They'll (sort of) follow the player around and serve many useful purposes, not least of which is killing stuff for you. You should never kill your pet; this pisses off your god something fierce and you will pay for it later. Eating your dog is also a definite no-no, since your god will curse you to inspire psychotic hatred in all enemies, transforming them from a mad death mob into a horrifying unappeasable zerg swarm.
A barbarian's first dog is always named Idefix, but if and when Armok gets another pet, I'll have him name it after readers who post in this thread.
Anyway, the second vital command that you should get comfortable with using is the inventory command. Intuitively enough, to look at your inventory you press i.
As you can see, Armok started with two weapons, ring mail, food, and an oil lamp. Two-handed weapons are generally stronger than one-handed weapons, but one-handed weapons allow use of a shield. Barbarians should usually use their starting two-handed weapon, with other roles favoring other fighting styles. Ring mail is low-quality armor that only gives 3AC, but it's better than nothing. Food is handy to start with, and oil lamps give light for a limited time (the lamp starts off, and doesn't start getting used up until it gets lit).
All in all, barbarians get a fairly consistent starting inventory.
Note that each item follows a letter. The food ration, for instance, follows the letter d. This letter allows you to select an item out of your inventory when you have a reason to use it. You can 'eat' the food ration, for instance by pressing e (the eat command) followed by d, which selects the food ration. If you tried using the eat command on, say, the axe, you would usually get the message "You can't eat that!" We'll save this food ration for later, though, because Armok isn't hungry yet. He's raring and ready to go!
The i command does not cost any time on your clock, so you should learn to use it early and often. It is vexing to die to monsters only to realize you had the means to defeat them or get away from them sitting unused in your inventory, so be sure to be intimately familiar with your stuff at every point in the game.
The final commands you'll want to know is, of course, how to move around. The arrow keys move you in the direction they point, and Home, Page Up, Page Down, and End move you diagonally. If you try moving into a tame pet, it will try to move out of the way, usually swapping places with you. If you try moving into a hostile monster, you attack it. Pretty intuitive, I think.
Time to move out. The two gaps in the wall of the room are passageways, so we'll pick one and go.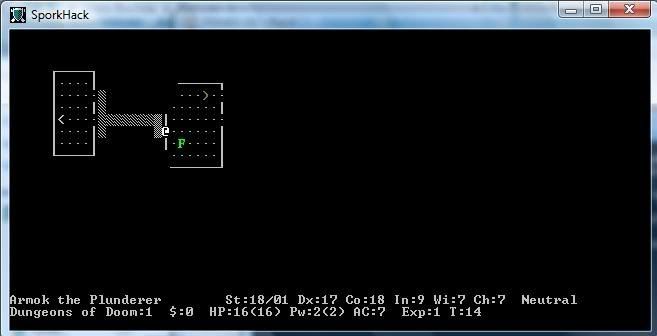 And so we come to our first fight…! F is for fungus, and this green one here is a lichen. Can the mighty Armok handle this horrible monster? DARE WE FIND OUT?