The Man of Talis
RPGnet Member
Validated User
Welcome folks to another Let's Read. This time we are tackling AC9: Creature Catalogue, published in 1986 for the then-current BECMI version of D&D. The Creature Catalogue is a big ol' monster book, with critters from published modules as well as totally new ones. We've got some real-world and mythological beasties, as well as completely unique ones invented for the game.
I love this book. I'm a monster junkie and the Creature Catalogue has a ton of creative new monsters. These aren't just your classic griffins and minotaurs, or variant forms of hobgoblin; these are unique and creative things, like the desert ghost, fungoid, and white-fang. The descriptions are of necessity pretty brief, but there's an enormous amount of potential here.
Without further ado . . .
Let's Read AC9: Creature Catalogue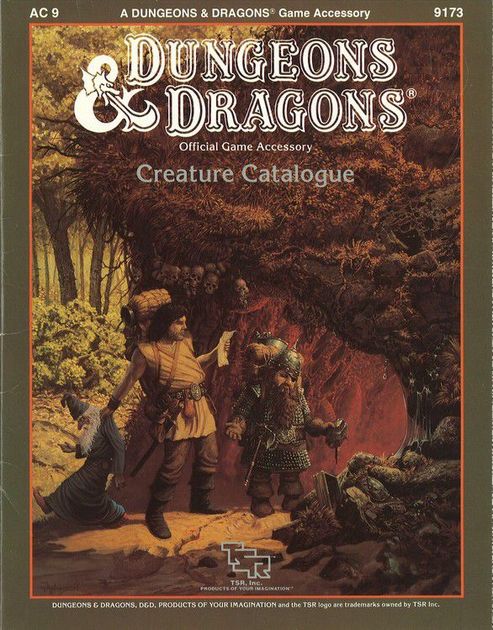 ​
The Creature Catalogue is divided into seven sections, excluding the indices. There are three such indices: creatures by name, creatures by type, and creatures by habitat.
Introduction
explains the layout of the monster statblocks. This is information you presumably already have if you've been playing BECMI: AC, hit dice, move, attacks, etc, plus a glossary of special attacks.
Of interest are a couple of ways to modify your monsters. First, while all monsters have an Intelligence score, that's assumed to be the average for their species; you can roll some dice to determine whether this particular monster is a genius or a dullard. Interestingly enough, monsters of roughly human brainpower (Intelligence 9-15) have the largest possible range, and can be up to 4 points smarter or dumber. At both higher and lower average scores, the variance decreases: a near-mindless monster with an Int of 0-1 and a super-genius with an Int of 20+, both have a maximum variance of +/-1.
You can also make your monsters larger or smaller, by applying a modifier of -3 to +3 to their hp per HD, attacks, damage, saves and AC. This, naturally, affects the amount of XP you earn for defeating the monster.
There's also a chart allowing you to compare the total HD of monsters in a given encounter with the Total Party Level (TPL) of your heroes, in a sort of forerunner to 3e's EL system. For instance, if you have three 7th-level characters, you have a TPL of 21, and you know that an encounter with eight Greater Piranha Birds (HD 2 each, total HD 16) is considered a Major encounter: "This type of encounter is usually used as the main fight or climax of an adventure. If an adventure has little fighting, you may want to include one or two of these encounters."
After that we move on to the meat of the book: the monsters! This is divided into six sections:
Animals: This includes giant animals, extinct animals and all sorts of non-fantastical creatures.
Conjurations: Magically-created monsters such as golems, as well as what later editions would call outsiders, elementals, and anything extraplanar.
Humanoids: Any human-shaped, semi-natural creatures. Basically, fantasy people.
Lowlife: Bugs, oozes, plants, and other mindless or near-mindless creatures.
Monsters: This is basically anything that doesn't fit in the other categories. Monsters aren't based on real creatures, don't come from other planes, aren't people, and usually have magical powers.
Undead: Self-explanatory, though some surprises lurk therein.
Note:
For those unfamiliar with BECMI, monster stats are a lot simpler than they would one day become. In particular, AC goes down instead of up (AC 9 is an unarmored human; AC 3 is a human in plate mail), and HD often come with asterisks to represent magical powers. A creature with 5 HD, fire breath, and immunity to nonmagical weapons would have HD of 5**. These affect the creature's XP value, and are a sort of shorthand to show the GM how powerful/complicated a monster is likely to be. Monsters also sometimes get bonus hit points expressed as +(number): a monster with 4+1 HD would roll 4d8 for hp and then add 1. Yes, monsters were a lot more fragile compared to 3e and onward, but so were PCs.
I'm sure some of the BECMI experts will chime in as needed, since I do not claim to be such. I'm just a guy who loves monsters.
Next time:
We walk with the Animals.