This is a follow-up to my recently completed
Let's Read
of the 1st edition DMG. I was thinking of following up with a let's read of the Monster Manual for a sense of completion (one of the appendices is a chart that largely recapitulates the MM) but people said there are no Let's Reads of the follow-up.
Shannon Appelcline has written up the product's history
here
. (That PDF is the version I'm using.) This is the third hardcover bestiary for AD&D, following the first Monster Manual and Fiend Folio.
Before I get into detail, my impression from looking at the 1e MM a lot during my last let's read were that everything seems relatively weak compared to modern monster creation. For example, the oldest, strongest gold dragon in 1e has 96 HP and a THAC0 of 9. In 3.x a Very Young Gold Dragon (a challenge for Level 7 PCs) averages 104 HP and has a BAB of +15 (which equals THAC0 5). In 5e that same age category has 178 HP, and +10 attack bonus. Ancient gold dragons have 500+ HP in the newer editions. So I may accidentally say "at 4HD this thing looks like a pushover" and be bombarded with stories about how it routinely took down whole 10th level parties.
So with that, let's get the preliminaries out of the way:
The Cover
The cover is:
My first impression is that it looks exactly like I'd expect any non-3e D&D book to look, a heroic adventurer fighting a monster. I don't recognize the exact creature the half-orc fighter is up against; I think it's some sort of halfling variant.
. But it's a very different look than the original Monster Manual's cover of frolicking beasts. (WOTC preserved the cover in the PDF they sell, which they didn't do for the three 1e core books.)
While the cover says It is the "Official" AD&D Monster Manual II, apparently its actual name is "Monster Manual II" and TSR was putting the word "official" on all its products
The introductory blurb on the front page notes that this is "This is the third of the series of world famous AD&D™ role-playing aids. It is the ideal vehicle of imagination for intermediate through advanced players and referees, ages 10 and up. A lot's changed in the four years since the DMG was published. Ten-year-olds may have read it, but it was not aimed at them. I wonder if they've cut down on the nude artwork here too. (Not that there was a lot, but you did have some mermaids and succubi with no tops in the original books.)
Copyright page
If you lived in the U.S., this was distributed by Random House. Which I think shows how big TSR had become.
Book credits on this page are: Project Coordinator: Marlene Weigel; Design Consultant: Jeff Grubb; Cover Artist: Jeff Easley; Interior Artists: Jim Holloway, Harry Quinn, Dave Sutherland, Larry Elmore I recognize some of these names.
Table of Contents and Preface
I love the art for these two pages. I think that later editons started thinking of D&D as Serious Business, but here you've got a bunch of monsters looking themselves up in the manual and destroying the page they're on,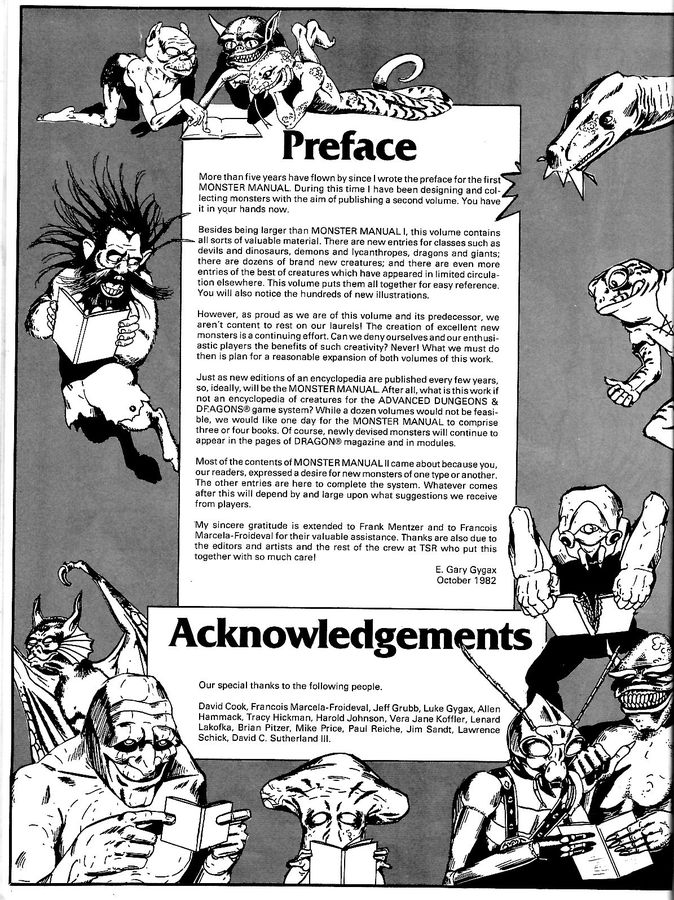 (source)
I love that dinosaur(?) in the upper right who's taken a bite out of the border around the preface.
Oh, and this is a good place to note I don't know how easy it will be to find some of the images. WOTC has a good archive for their modern manuals, but I don't believe they preserved TSR-era work online. So it will be whatever however much googling I have time for shows up
Sadly, the table of contents itself only lists sections (preface, monsters, random tables, etc.). There doesn't seem to be the alphabetical list of monsters from Aboleth to Zygorn anywhere
In the preface, Gygax notes that there's been a lot of demand for more monsters, and this book contains, well, more monsters:
MM2 p4 said:

There are new entries for classes such as devils and dinosaurs, demons and lycanthropes, dragons and giants; there are dozens of brand new creatures; and there are even more entries of the best of creatures which have appeared in limited circulation elsewhere.
He also says that he envisions the Monster Manual like an encyclopedia, a reference which made sense in the 1980s. Specifically, they keep getting updated with new information, and he envisioned more Monster Manuals being made every few years, something that later editions certainly did.
Gygax extends sincere thanks to Frank Mentzer and Francois Marcela-Froideval in the preface. I recognize the first name (he wrote the book which got me into RPGs, the BECMI Basic.) I had to look up the second; he came to America to work with TSR in the 1980s, and would continue to translate their books into French for years.
In the
Acknowledgements
TSR also mentions David Cook, Jeff Grubb, Luke Gygax, Allen Hammack, Tracy Hickman, Harold Johnson, Vera Jane Koffler, Lenard Lakofka, Brian Pitzer, Mike Price, Paul Reiche, Jim Sandt, Lawrence Schick, and David C. Sutherland III. Again, some names I recognize.
How To Use This Book
In the original MM, this section was a page and a half long. They've expanded it slightly to 4 pages.
It starts with the two definitions of "monster," the conventional one of horrible beast and the D&D one of any creature, humanoid or person encountered, hostile or not.
Details of a monster's stat block include:
Number Range:
For when the book lists numbers, generally in number appearing or damage. There's a note that the DM can select within the range for a challenge. There's also a translation into die rolls, so when the book says you'll encounter 4-26, you can just consult this to find out it's 2d12+2. The only one which requires any explanation is that apparently there will be entries that say "3-12" and ones which say "3-12*", or 3d4 and d10+2 respectively.
Frequency
can be very rare (3% chance of being found in likely environment), rare (4%), uncommon (20%), common (65%) and unique (just one exists). "These probabilities are reflected (with variances within statistical limits) in the Monster Random Encounter Tables. For example, some very rare creatures will in fact be rarer than others under the same general description."
Number Appearing
is based on standard circumstances. If there's a lair, or they're intelligent creatures that are part of a war party, there might be more. Also, the number may be adjusted for dungeons to fit the challenge of the level.
Armor Class
takes into account a monster's speed and dexterity, and generally doesn't need to be adjusted. (Anyone who struggled to remember which bonuses stacked and which didn't in 3.x may appreciate the lack of realism.)
Move:
Rather than naming the type of movement, to save space each has a notation indicating form of locomotion. So 4"//8" means the creature runs at 4" and swims at 8". I like the fact web crawling is an asterisk, an ASCII art spider's web.
Hit Dice:
Usually D8s.
What was the logic behind the +X to hit dice being so important in D&D? On average there's only a 5% difference in HP between a 4 HD monster and 4+1, but they're treated as if they're 5 HD for determining how much XP they're worth. I assume it's something from OD&D like the entire Hit Die system.
% In Lair
are chances of them being home when you find their lair. For extraplanar beings, sometimes this means their temporary lair on the prime material plane.
Treasure Type
: I refer you to
SuStel
's
post about treasure
in my last thread about the various types. It helps you know what they mean. Some is carried, most is only found in the lair.
These are not suggested for treasures that may be guarded in a dungeon.
Some treasure is "incidental," found by accident. An animal which drags a slain adventurer in the lair, consumes them and leaves the change purse has left incidental treasure. People who complain about weird item drops in video games and wonder why that bat was carrying a +1 sword, it's an old issue.
Number of Attacks:
These are basic physical attacks. There's a note here that certain humanoids, including humans, dwarves, goblins and more, use the human attack matrix rather than the monster type.
Damage Per Attack, Special Attacks
and
Special Defenses:
Pretty self explanatory.
Magic Resistance:
Just a reminder that this % is based on being hit by an 11th level caster's magic, with a +/- 5% difference per caster level. So a 10% magic resistance becomes 60% if you're facing a 1st level wizard. (There's more details in the entry but we'll worry about those in individual monsters if they come up.)
Intelligence
: One interesting thing about AD&D compared to later editions is the total lack of stat inflation. Intelligence of 21+ is godlike; 19-20 is labeled Supra-Genius (I always here that in a Wile E Coyote voice). On the other end of the scale, 0 is non-intelligent, 1 is animal level, and 2-4 is semi-intelligence. But read on for more on godlike genius.
Alignment:
Sometimes there will be an inclination listed as well as the two-word alignment, so Chaotic Good (neutral) means the creature has neutral inclinations.
Size
: There are three categories, Small, Medium (human sized) and Large (anything bigger). I can see why this was expanded in later editions.
Psionic Ability
and
Attack/Defense Mode:
Odds a given creature has psionics and their offensive and defensive capabilities. Some are suspected to have it but not confirmed. I like the idea that these manuals are "best compiled data" rather than "word from on high."
Level
and
Experience Value
: A reminder: monster level is not the same as character level; it's how strong they are on a scale of 1-10. The DMG has a formula for determining XP, but thankfully the MM2 does the work for you.
Special Entries
Plane
: The plane the creature is from. Often but not exclusively determines its alignment.
Cleric/Druid etc.
: If a monster has a profession listed, it has the abilities of that Class. Note it is not necessarily that class. Something could be non-lawful good and have Paladin powers, and Bard abilities don't indicate the monster trained as a fighter and thief beforehand.
S,I,W,D,C, and CH
are stats listed if need be and rules for how 19+ stats work.
High Strength was described in the DMG under Girdles of GIants Strength, and the bonuses listed to hit, damage, bend bars, etc. seem the same.
High Intelligence increases odds of being able to learn spells (95% chance at 19; 100% at higher levels), minimum spell known, and lets you see through illusion/phantasm. At Int 19 you're immune to Level 1 illusions because you see the inconsistencies. Each point of increases the level you can ignore. Illusionists must hate dealing with smart monsters.
Dexterity gives bonuses to hit, reaction rolls, AC, and certain thief skills.
Constitution above 19 not only gives you more HP per level but also lets you treat 1s rolled for HP as 2s, (and later on, up to 1s, 2s and 3s as rolling a 4). These bonuses only apply to fighters; others are capped at +2 HP/level from Con bonus. Con 20+ also allows some regeneration, up to 1 HP/turn at 25. That is big.
No listing for high Charisma's effects, but I imagine it's soooo many followers.
Next time: The actual monsters, starting with Aboleth. I plan to do one or two a day.