Edit: Previously,
The Complete Book of Elves
This is the first RPG book I ever bought, and surprisingly, it's still in pretty good condition. My first character ever, for AD&D 1st edition, was a dark elf illusionist, and I didn't really understand how hated dark elves were in wider society, but I did the whole "keep the cloak up, use illusion spells well" thing and it mostly went okay once I realized that, for example, surface elves would attack me on sight. Plus I got +1 Intelligence, which was pretty nice.
Anyway, here we go.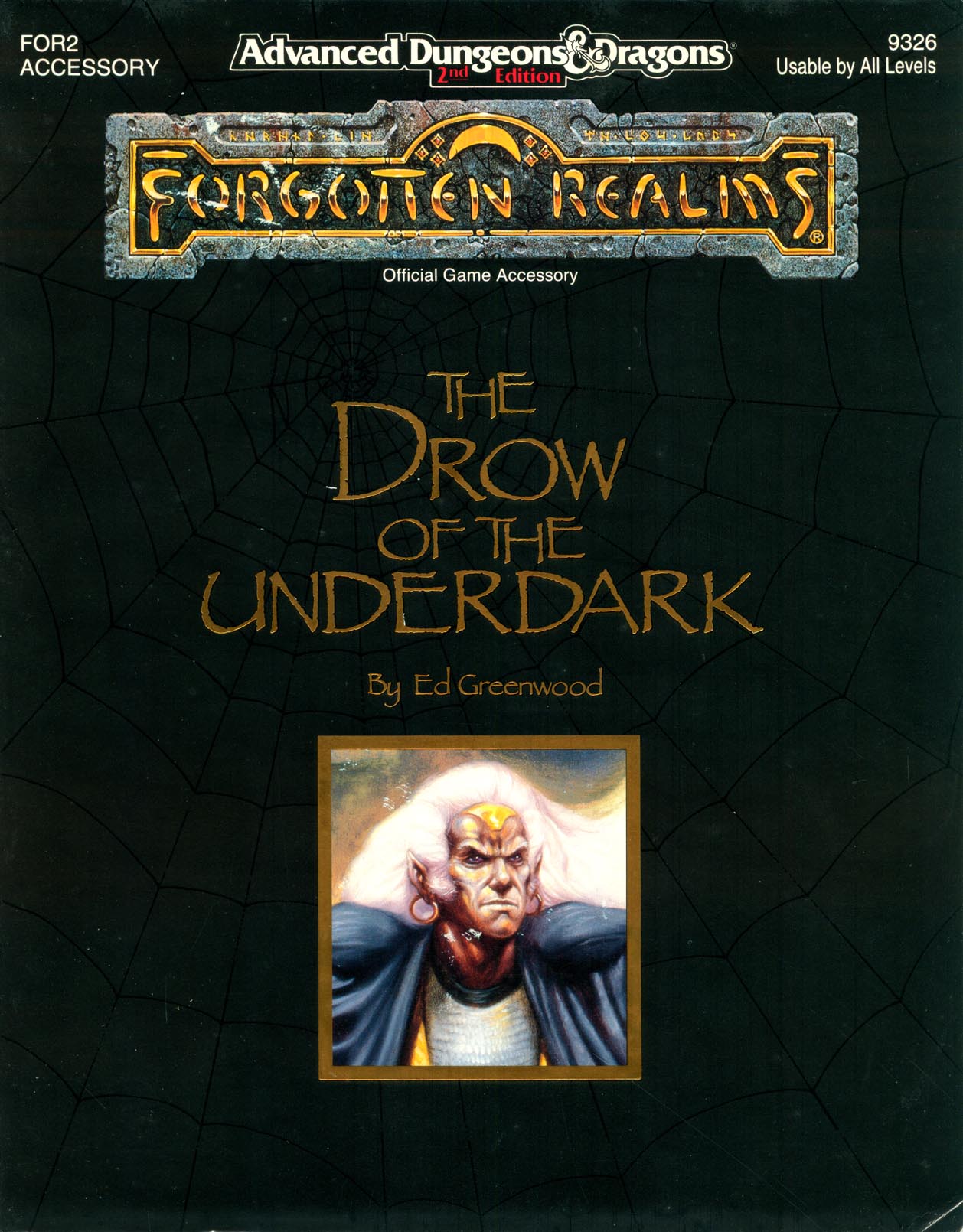 Note that the cover continues the long line of art depictions of drow having nothing to do with their description. Every mention of them says their skin is jet black, but for whatever reason, the art usually has them with dark grey, dusky purple, brownish, or some other color, and this one is no exception. "Light brown" is not the skin color of any drow ever. Maybe it's Drizzt with a sunburn? On the other hand, at least it's not one of the pictures that shows drow as fantasy African people...
I remember spending a long time when I was young wondering how he got that gold thing on his forehead to stay in place.
Wikipedia tells me
that the word "drow" is cognate with "trow," which is another way of saying "troll." It also spends a paragraph going over Gygax misremembering where he got the idea of the drow from. Apparently they first showed up in
G3: Hall of the Fire Giant King
, which I haven't played, which then leads to
D1: Descent into the Depths of the Earth
, through the rest of the D series, into Q1, etc., etc., and ends with the party killing the demon queen Lolth after whittling away her bloated 66 (!) HP.
Those were simpler times.
Table of Contents
Introduction: Drow In The Realms
The Nature of Dark Elves
Dark Elven Society
Drow Religion
The High History of the Drow
Drow Spells
Drow Magical Items
Drow Craftwork
Drow Language
Drow Nomenclature
A Selected Glossary of Deep Drow
Dark Elven Runes
The Spider And The Axe: War In The Depths
The Underdark
Monsters of the Underdark
If I remember right, by far the best chapters are the ones with the spells and magic items. There were some seriously awesome ideas in there even if you hate the very idea of the drow.
Last edited: