Pope Orion Orangutan Omnibenevolence Kosmos, Yes
Validated User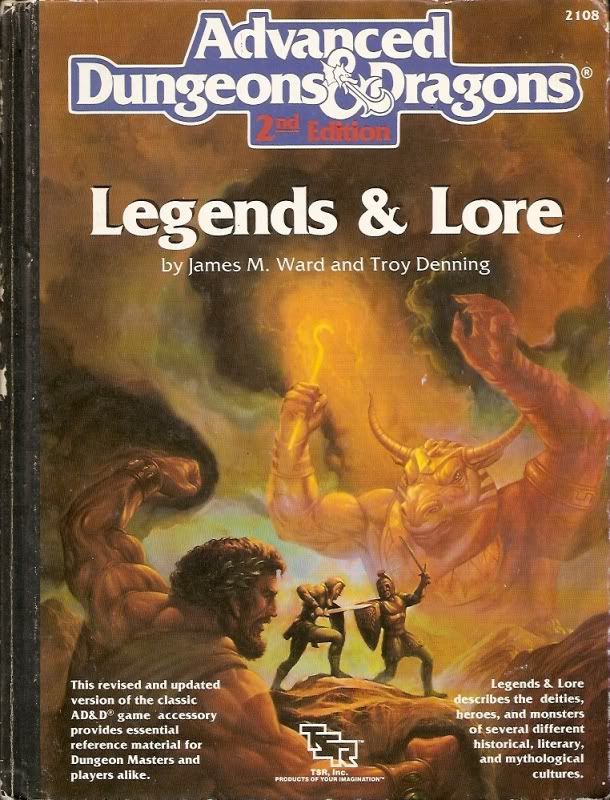 I am not one hundred percent sure what a Let's Read thread is. It seems to be one guy giving sort of his review notes for a large work bit by bit with commentary from the peanut gallery. I thought I'd try one for
Legends & Lore
, the Advanced Dungeons & Dragons 2nd Edition version. There doesn't seem to be any sort of committee or approval process: Just one man with a mad idea, seeing who else will bite. Well, this is my mad idea, who's gonna bite?
One note: I do not have internet access at home. I can almost certainly get to the library once a week to use the internet. When I do so, I will update this. So, probably weekly updates. Not the hectic daily schedule (un)reason is doing on his Dragon threads. In case you're wondering: I am typing this in wordpad from notes I handwrote out in pen earlier, copying the end result RTF to a flash drive and taking the flash drive to a library, where I will copy and past it here.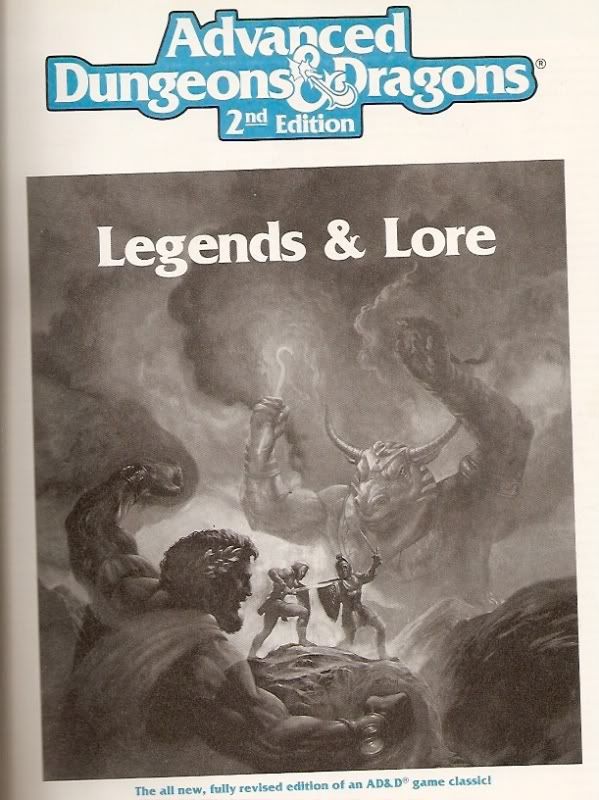 Page 1: I think most people skip the title page, but that's a shame.
Advanced Dungeons & Dragons 2nd Edition
Legends & Lore
Then there's a nifty, big drawing by Jeff Easley reproduced from the cover in black and white without the text from the cover cluttering it up.
At the bottom it says: The all new, fully revised edition of an AD&D game classic!
One of the things I love about this title page, is the classic dragon-shaped ampersand (or ampersand-shaped dragon) in the Advanced Dungeons & Dragons 2nd Edition logo. Seeing as to how it was replaced with a more normal ampersand for the Player's Option books and 3e used a different version, it can be argued that the demise of the classic dragon-ampersand was the beginning of the end.
Hooray for aliteration too.
The exclamation point at the end of the blurb is their own. I guess it's somehow part of the sales pitch.
The image is pretty nifty too. Clerics of rival Gods engaged in epic battle while their Deities cheer them on. This is what D&D is meant to do. Also it's easier to find Easley's siganture on the black and white reproduction of the cover artwork here than on the actual cover artwork. Jeff Easley was one of the artistic treasures of the late 1e to early 2e era.
Last edited: