Digital Scribe
Validated User
I just got my last shipment from Drivethrurpg yesterday (Masters of Jade, Patchwork Scroll, CoTD: Autocthonia, and Thousand Correct Actions)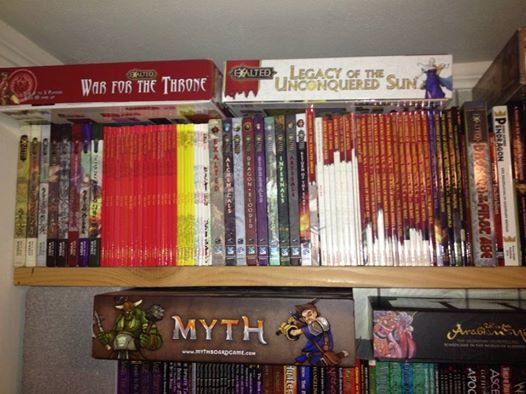 So, that's every published book for both first and second editions, plus the boardgames. The only thing I'm missing is
Under the Rose
, which did not have a PoD option and was not released as a commercial product (I may have to hunt down a copy on ebay, but it's a minor thing).
I've actually read most of them, my latest acquisitions notwithstanding, though I'm thinking I should do it all again in preparation for third edition (the cynical part of me thinks I could probably read the entire collection before 3e sees the light of day, but maybe I'm being unnecessarily pessimistic).
The PoD books are pretty high quality, though it bugs me that they're a different size then the regular books. I suppose "looking good as a complete collection" was not necessarily a high priority. Still, it makes me happy to look at the whole thing, sitting there on the shelf. I'm not sure what my next collection goal will be, probably Changeling: the Lost, but that will have to wait awhile. Even though I got some of these books for as little as 0.16$, it still took a bite out of my budget.
Last edited by a moderator: