aka "Herr Doktor Hubert"
Validated User
The
Cockatrice
is basically a naked chicken with petrification powers and too close to real world mythology. The
Couatl
likewise hews too closely to real world myths. Thus, the next suitable candidate is:
Darkmantle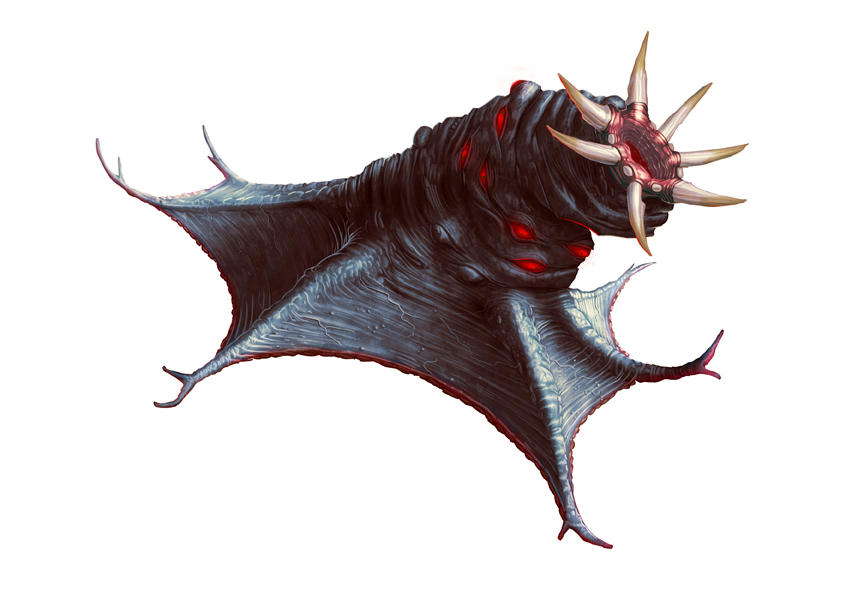 Well, I suppose we have our native squid analogue. I like the radial eye structure on all variants. I am a bit ambivalent about the Pathfinder version - while the branching tentacles are a nice touch that makes them seem more alien, the mouth with fangs at the top would seem to make it a bit hard to disguise itself as a stalactite or stalagmite. I think it would make more sense if the mouth is at the bottom, between the tentacles, like with terrestrial squid.
One thing that distinguishes it from terrestrial squids (well, apart from the whole "can fly and lives on land in caves" thing) is that they have
Echolocation
like bats, which is what their
blindsight
is based on. I wonder what they use their many eyes for, then? Presumably they use them to gauge the boundaries of their
Darkness Aura
power - they need to know where it ends so that they can stay hidden within it (since their sound-based blindsight is unaffected). Since their Darkness Aura only works 1/day, they cannot rely on it all the time and they remain vulnerable to other predators - explaining why they spend most of their time in caves.
Strangely enough, despite their appearance and likely aquatic origin, darkmantles are
not
aberrations but monstrosities!
Variations:
It's easy to imagine forest-dwelling variants like the
decapus
or the
Northwest Pacific Tree Octopus
- they could have more slender builds and disguise themselves as tree branches (consider how stick insects look, and then add chameleon powers). Or there could be giant versions that hibernate during the days and emerge during True Nights, floating over the landscape while taking on the appearance of the night sky, and then picking up unsuspecting creatures from above. Let's call them "Great Anglers"...[/b]