So yeah, after that "Civil War: Not so Bad" thread popped up a few days ago the notion hit me to do a Where I Read of the thing. My local comic shop sells their out of date comics for a song so I looked up which books are part of the Civil War event and bought as many as I found. There's a hole or two that I'll have to do some serious searching for and may wind up skipping entirely but I have most of it.
Anyway I should probably mention beforehand that I'm a very casual comics reader, which is why I didn't read Civil War in the first place. In particular I prefer smaller comics with short runs that I can reasonably pick up all of and read straight through, like Next Wave or most smaller Japanese Manga. Looking at a huge wall of Marvel comics featuring X-Men, X-Force, X-Factor, X-Kids, X-Frogs, and Usagi Yojimbo just intimidates me when I think that they're all interconnected and reference each other as well as events that I don't know about and can't access. So anyway, this will be from the perspective of somebody who rarely reads the larger universe and hasn't kept a very careful track of the characters, for what that's worth. As a result while I'm not totally unspoiled in every way, I don't know more than a few particularly broadcast details that were everywhere on the web, so please try not to spoil me any more and all that jazz.
Also I should note for the record that as a convention, I'll be using a character's real name when they're in civilian guise and hero name in costume. This system will surely break down when I reach the Fantastic 4 but I'll try to cope. I hope this will help keep straight who's doing what in the sequences.
Amazing Spider-Man #529
And the cover is. . . What the froglegs is this? Is that Spider-Man? Why is he red and yellow instead of Red and Blue? Why are there ominous looking organic claws coming out of his back? Is this the new Venom or something? Eh, maybe the inside explains.
Peter and Mary-Jane:
Still in bed asleep in the early morning, are woken up by Peter's boss Tony who communicates through a bald eagle statue. Huh. I'd think a cell phone would be more practical, Peter can't possibly carry this Eagle everywhere he goes. Tony turns out to be Tony Stark and he's building Spidey a new Iron Spider suit which explains the creepy unusual image in the front. Nice to see them acting so fast to answer my questions. Peter wants the suit to have rocket-boots but Tony won't let him and a couple of pages are devoted to this by-play. I'm not quite sure why, on the one hand I can't understand why Tony doesn't want Peter to have rocket boots, and on the other hand I'm not sure why Peter wants them given how mobile he is already. Would rockets add that much? Also there's a bit of techno babble where Tony explains that he used something to repair Mary Jane's broken arm somehow in a comic I doubtless didn't read and won't understand the reference to.
Suddenly, a Pair of Thugs:
In an incredibly obvious getaway vehicle covered in flames are easily escaping the inept police, who are completely overmatched by the thug's superpowers of owning a gun. Not a laser gun, not a death ray, an ordinary gun any criminal might own if he's got a couple hundred bucks and access to a pawn shop (Looks to be an Uzi to me, I imagine they're illegal in New York but plentiful anyway) Yeah yeah, I know, comic book tropes, police are useless. Spidey appears in his new Iron-Spider armor and unleashes the awesome power of his new. . . glide mode. It's hilarious, these incredibly tiny spider webs pop out of his armpits to let him glide, I'd swear the entire gliding surface is no more than a square foot, two square feet at the most. I've got birds in my backyard right now with bigger wings.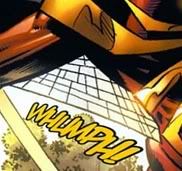 How does this even work?
But somehow they let Spidey, and what must be a significant weight in armor plating, glide around. Spider-Man lands on the roof of the thug's car, and they think they lost him. ?? He rips the roof off and they shoot at him, and again think they lost or maybe killed him. ?!? What the froglegs is wrong with these idiots? He dispatches the pair by running their car off an on-ramp in a hideously dangerous manner steering with his webs, and rescues a hostage woman from the trunk. Showing more of their superior policing skills, the cops let the thugs draw out their second, backup gun. Spidey's spider-agility and speed quit working long enough for the thug to shoot him in the back and show off his new armor plating. Thug is impressed. Reader wonders how Spider-Man has managed to survive so far if two random thugs can put a bullet in his back so easily. Reader further wonders how the NYPD have managed to even survive this long, I imagine cops this incompetent manage to frequently get themselves killed writing parking tickets. Those pens are pointy and dangerous.
That Night:
Tony, Peter, and MJ are having dinner together. Tony explains that he's equipping Peter with his armor and advanced weaponry because he needs some support, serious support. There's a running gag going where Peter keeps pointing out that every member of the team (I'm guessing the Avengers) ever are honest, loyal, and would save Tony's life, while MJ keeps adding "Except Logan" with Peter's agreement, to each condition. Tony needs more than that. Tony needs Peter's complete absolute loyalty unto death in the upcoming battle but won't explain why or how unless Peter swears a blood-oath first. Who the froglegs swears a blood oath on something they don't know anything about?
Oh, I guess Spider-Man does.
I really can't fault his reasoning though as he points out that Iron Man's saved thousands of lives, including Spidey's own, many times over, and Tony deserves the benefit of the doubt. We close on an ominous shot of a summons to the US Senate. . .